Zoe Strauss arrived at the press preview for her Ten Years installation at the Philadelphia Museum of Art yesterday sleepy-eyed, yet buoyant – her gray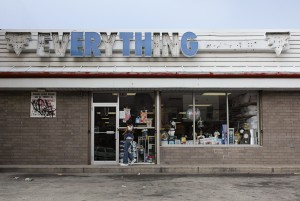 hoodie and blue jeans a welcome contrast to the roving sea of cotton Dockers and tweed milling about the place.
Zoe Strauss came as she was. Nothing more. Nothing less. She came as the unassuming kid from the northeast who acted on an impulse to develop an installation underneath the beams of I-95 a little over 10 years ago. She came as the friendly neighborhood photog … an ambitious young storyteller who possessed the rare combination of guts and compassion necessary to wander into some of the city's deepest pockets; to capture her subjects in that fleeting moment between spontaneous and staged; to befriend and document the travails of everyday people who had somehow managed to fall between the cracks. 
Zoe Strauss came as an artist whose work speaks to the depth of Philadelphia … A Philadelphia ripe with bruised eyes and broken teeth; a Philadelphia gray with vacant lots, where the weeds shoot up like wildflowers; a Philadelphia where Krass Brothers is no longer the Store of the Stars, where the names of the dead are tattooed on every arm.
Zoe Strauss came as a budding reflection of the abstracts and stills that define her as an artist. She came as a sister-in-arms, capable of respecting the boundaries and trust necessary to capture her subjects at their primal best. She came as one of their own – an unassuming presence subjects could trust because she had walked a mile in their shoes, because she had genuine compassion for their struggles, because it was clear from the outset Zoe Strauss had no intention whatsoever of turning them into a punchline, or exploiting them to her own end.
Zoe Strauss came as the girl from ­13th and Dickinson. By the look of things, you'd never assume she was on the cover of the City Paper this week, that her work was the inspiration for an emotional cover story in this week's PW as well. You'd never assume that every media outlet from the New York Times to NBC was busy singing her praises; that there were 54 billboards across the greater Philadelphia area showcasing her work; that there were more than 150 of her pieces gracing the walls of the Honickman and Berman Galleries at the Philadelphia Museum of Art, that she was only an hour or so away from having lunch with the Vice President of the United States.
Nope, you'd never assume that, because Zoe Strauss would never allow you to assume that. And therein, my friends, lies the essence of Zoe Strauss – the reason why she's succeeded where so many other Art majors, documentary filmmakers, and would-be auteurs have failed. She was, is, and always will be just another familiar face from the neighborhood; a local girl made good.
(Zoe Strauss: Ten Years runs from January 14-April 22 at the Philadelphia Museum of Art)