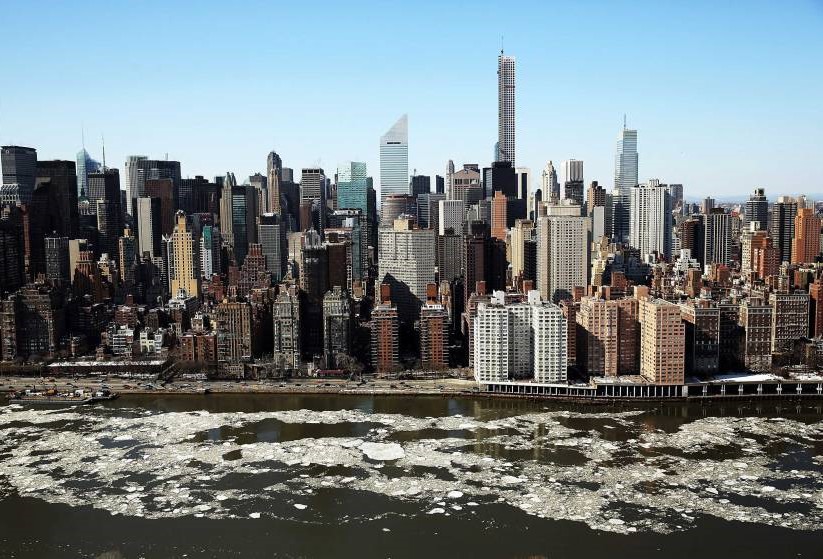 It is winter now, a bitter week in January. Outside the wind chill forces tears to freeze against one's cheeks. The sky is gray and the trees are barren. The bicycle delivery boys have plastic bags wrapped around both handlebars to deflect the biting cold. I am alone now, and I am in my apartment, which is located along East 92nd Street. I have decided that I am going to leave New York City before the weather begins to get warm.
My apartment is a studio, and it exists inside of a converted whitestone with 20 units across five floors. Inside my unit, the ceilings are cracked and the floors are not level. On nights like tonight, the frigid air whistles in by way of unsealed windows along the north wall. I have no access to the thermostat, or the boiler. Throughout my first seven years here, the hot water would be unavailable for several days without pause. Back then, this entire building only had one employee – a half-deaf superintendent whose primary language was Greek. More recently, a
property management association has taken over control.
I pay $1,425 a month in rent, which is extremely low for New York City. Whenever possible, I work out of my apartment. On a good day, I will head outside for a few hours. I will go to the thrift store and to the grocery store, and I will chart the city by way of a long-distance run. Throughout Upper Manhattan, 20 street blocks – or half of that in avenue blocks – equates to one mile. This does not apply throughout various lower-island areas where the grid system breaks down (i.e., the West Village, the Financial District, Soho, and Tribeca). In a previous essay, I described one of my early-morning runs as follows:
"It is still dark as I set out toward Grand Army Plaza. All across the Upper East Side, I can see the morning workers spraying down dank sidewalks, and I can smell the meat and eggs from every cart. As I approach 7th Avenue, I can see scant traces of light illuminating the horizon. From there it is down and through Times Square, along Penn Station, along the Chelsea Market. Twenty blocks until the dividing line, after which I will cut left, negotiating a walkway that borders the Freedom Tower. I am entering the final chute now. Half-a-mile to the Battery, where I will break into a sprint, barreling mad toward the southeast corner. No more sidewalks, no more island. Nothing left but placid water … placid water and the sound of New York City, wiping sleep out of its eyes."
This past 4th of July, I was wandering home from a late-night run and the streets had fallen empty. Everybody had gone to the shore. As I approached 71st and Madison, I looked over at the 11-story building that houses Joan Didion's apartment. I was listening to my iPod, and Lou Reed was singing about how "the city is a funny place/something like a circus or a sewer." And the air felt crisp, and the mist sat perfect, and for a moment it appeared as if I was being transported back to Fitzgerald's Lost City, or Woody Allen's forever-black-and-white world. I tended to force this type of sentiment upon moving into Manhattan. I would get obliterated down on Bleecker Street, and then I would sit outside the West 4th Street apartment where Bob Dylan had previously lived with Suze Rotolo. Either that or I would get drunk at the White Horse Tavern before charting a course toward the Chelsea Hotel, where I could sneak past the front desk, and then meander the halls.
I was a spectator then, much like I am a spectator now. I have seen President Obama and Pope Benedict XVI, but only as they were being whisked past via elaborate motorcades. I have stood within a few feet of Steve Martin and David Chase and Mick Jagger and Lana Del Rey, but I have never said hello. I have frequented the pay-what-you-wish Metropolitan, despite largely eschewing the higher-priced Guggenheim, the Whitney, and the Museum of Modern Art. I have accepted free tickets in exchange for providing press coverage, despite never meeting any new contacts as a result. I have embarked upon four significant relationships amidst living in New York City, involving women who were living in Philadelphia (X2), Northeastern Pennsylvania, and Rome, and I have undertaken three significant writing projects, which were set in Philadelphia, and at the Jersey shore, and along the open road.
None of this was by design. I initially came to New York City, as most dreamers do, enamored with its pulse. In those days (i.e., 2006 – 2008) I was living with a couple in an 87th Street apartment where there was less than an inch of space between my mattress and the walls. Two weeks after I had arrived on the Upper East Side, I waited for free tickets to see Meryl Streep and Kevin Kline in a production of Mother Courage at the Delacorte Theater in Central Park. The Delacorte facilitates two free-ticket productions every summer with semi-nightly, Obie-caliber performances. And yet, sadly, I have only returned to the Delacorte twice,
which is my point.
The weekend before Christmas in 2009 I went to see West Side Story on Broadway, and after the show my date and I emerged into a blizzard – approximately 50 people engaged in a giant snowball fight in Times Square. I mention this as a juxtaposition to the three or four Christmases that I have spent here alone. During those Christmases, I would embrace the desolate walks from my apartment into Midtown on December 24th. Rockefeller Center remains a major draw throughout Christmas Eve, replete with vendors and security and an endless stream of tourists. Once midnight strikes, a celebration ensues. A man gets down on one knee and proposes.
A few years ago, I spent the holiday season working at a Christmas tree stand in Murray Hill. For seven straight days, a local man with wiry hair would stop by this stand, and he would ask me if I had witnessed any accidents along the immediate intersection (at 39th and 2nd) that afternoon. For seven straight days, I would respond to this man that, no, I had not witnessed any accidents along the immediate intersection (at 39th & 2nd) that afternoon. On the eighth day, I watched as an SUV slammed into a pedestrian, only seconds after torpedoing through a traffic light en route to 39th and 3rd. "You probably assumed I was crazy," the local man said, upon hearing the news. "But I've been living in this area for a long time, and there has been at least one accident a month along that intersection for as far back as I can recall."
***
In 2011, I gave up drinking, and I took an interest in photography to fill that void. At first, I would document the city's alcoves (a minor stretch of Commerce Street became an early favorite). Before long, I was taking photos during snowstorms and during protests. I was taking photos on the Staten Island Ferry, or along the Brooklyn Bridge at dawn. Once, when the temperature had fallen below freezing, I came across a naked black man as he stood shivering in Carl Schurz Park. Reacting on impulse, I reached for my camera. I can post this online. An indefensible thought.
Sixteen years of city living have curdled me. At 44, I rarely stop to consider how difficult it is to allay mental illness or addiction or any related form of socioeconomic depression. I rarely stop to consider how pursuing treatment is expensive, and how that treatment needs to be ongoing. What I do consider – for purely selfish reasons – is how competitive the New York City job market is; how applying for any position here requires internet access, and a decent resume, and an education, and experience, and a button-down wardrobe, and a subway pass, and a $400 phone.
Today's Manhattan operates like a Mecca for the one percent. The city's few remaining low-rise structures are being swallowed whole by developers, many of whom intend to build higher. The southern third of Central Park has been eclipsed by several new or updated skyscrapers, including One57 (1,005 ft), 111 West 57th Street (1,428 ft), and the Central Park Tower (1,550 ft). Out by Hudson Yards, a similar process is underfoot. A mile north of where the construction boom recedes in Spanish Harlem, one can find a lot more residents who are living on disability, just as one can find a lot more shopkeepers who are using three-speed fans to cool their stores.
For a time, the cost of living in New York City did not bother me. For a time, the Upper East Side became my home. But the past three years have been unnerving. At a low point last winter, I accepted a part-time job working as a ride operator at the Battery Park Carousel. Night after night, I would stare out from a console as the sun descended over the Upper Bay, silhouetting the Statue of Liberty as it fell. Here now, 10 months after I left that job, I am reminded that I have lived in New York City during an 11-year period that included (among other things): the occupation of Wall Street, the rise of the Black Lives Matter movement, the fall of the Gawker Media Empire, the Eliot Spitzer scandal, the Harvey Weinstein scandal, several minor terror attacks, and the presidential election of Donald Trump. I have lived here during a period when there was always somebody singing "Lean on Me" in the subway concourses, and when there was always a used copy of Kitchen Confidential sitting along the shelves of any Goodwill store. But more than anything else, I have lived in New York City during a period that was about the period before it (and before it, and before it.)
I will forever remember New York City as the place that I already missed before I left there. I will forever remember the early promise of this island, of scrawling drunken phrases on cardboard coasters in the dark. I will forever remember the rush and the echo of the midnight horns, the low-ceilinged bars where everything felt so attainable and within reach. I will forever remember the smell of the brass polish, and the sawdust grains on musty floors. I will forever remember the dream and not this purgatory. I will forever remember these words, which were written by Andre Aciman: "This is your walk and this is your moment and this is your time capsule … This is the moment when you can take me and mold me and make me in your image, and I'll be what you wish, and I'll take after all your wants and whims, I'll woo you if I have to till you get used to me and love me. But after this I'll harden into what you see now and what you want now, and I may never change again. Buildings will come and go, and today's movie theaters will be gone soon enough. You will grow older too, but come the evening of every day, you will find me as you find me now, waiting for you to step out into the speckled evening to recall, once again, as ever again, that you and I are of one kind." I will forever remember each of these things, and I will take them with me when I go. Come the end of February, I will be relocating to the Pocono Mountains in Pennsylvania, where I can find work and a more consistent lifestyle. For now, the hour is late, and I can hear the opening strains of "A Waltz in A." The boys in the band have started playing me home.
©Copyright Bob Hill