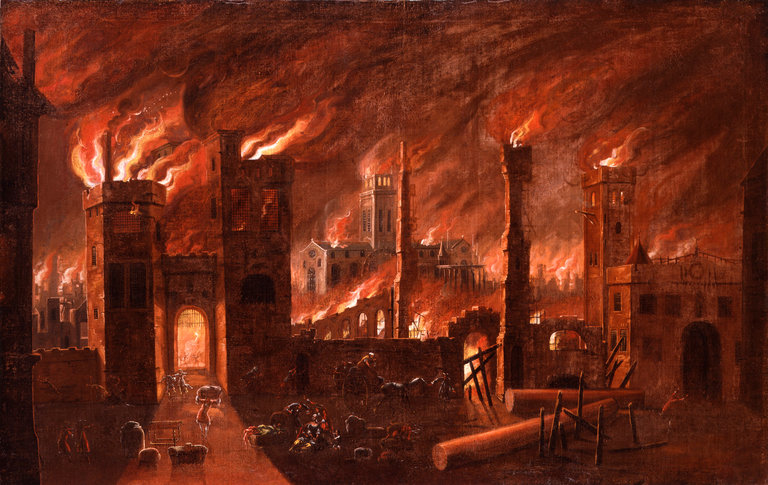 It was the sound, and not the fire, that prompted an initial call to 9-1-1. That sound indicated a chain reaction – ba-Boom! followed by a car alarm from up the street. The boardwalk shook. Any hanging plant life rattled. A woman at the Monaco Motel reported hearing an explosion. A series of blinds were being undrawn.
Four minutes later, at 1:49 AM, a hook and ladder responded. There were flames at this point, clearly visible and spreading low across one roof. There was smolder filtering out from an accompanying stock area below. The hook and ladder stopped just short of the Wildwood promenade, the southern pine of which could not accommodate any vehicle of that scope. The source of the fire was inside a T-shirt shop. For the better part of an hour, that shop had
been closed.
A trio of firemen forced their way in through a back-door entrance. Inside, the T-shirt shop was dark and hot and it was full of smoke. The firemen retreated. They shut off nearby gas lines. They evacuated a couple who were living in a studio along that row. Up on the boardwalk, 25 members of a youth ministry group began emerging from a chapel. These members were greeted by a police officer with police tape who was sectioning off the promenade between Baker and Montgomery Avenues. There were tourists now, and they were wearing pajamas. There were wide-eyed drunks, and they were wearing well-pressed clothes. There was an older man who stood craning his neck up toward an Angelo's Pizza marquee. Angelo's Pizza was located 40 meters south of where the fire continued to burn.
Down on Baker Avenue, turntable ladders were being extended; 50-ft. hoses were being unfurled. White men with white hair and white shirts were giving orders, while burly men in bulky gear were pointing nozzles up and through the t-shirt shop's back door.
The Made In The USA T-Shirt Shop was one of three businesses that were all housed within the same building. That building, erected in 1940, lacked the benefit of any steel partitions (later known as firewalls). Worse yet, that building's owner had been cited – and then re-cited – for more than 15 code violations between July and August of 2000. Among the more egregious violations were failing to maintain any operational alarm system, combined with failing to repair several gaping holes along the ceilings and walls. The Made In The USA T-Shirt Shop, in particular, had been cited for excessive bulk throughout its storage area. Cardboard boxes littered the floors like flaccid pillars. Bundles of stock congested the stairs in haphazard rows.
The fire spread quickly. Flames ascended up and through the t-shirt's shop's attic, cascading down into a dollar store which was connected via the south. Along the promenade, embroidered patches read North Wildwood and Erma and West Wildwood and Stone Harbor and Anglesea and Wildwood Crest. A pair of firefighters used an axe to remove a padlock from the t-shirt shop's front entrance. They rolled a shutter back, then ran a chainsaw through a clearance in the shop's main floor. The ensuing hole created ample space to spray a hose into the storage area. That area, which had been constructed like a bunker, appeared to be supplying tinder for the fire's real cause.
Fog was rolling in now, and 11-mile winds continued eddying the coast. Intense heat had weakened the t-shirt shop's roof to an extent that – just before 3 AM – the northern end of it began to implode. Kilocalories of combustion burst from the Dollar Store into an adjoining gift shop. That shop was separated from the Boardwalk Chapel by a 3-ft. alley made of wood. The strategy became containment. And it remained that way until three hours later, when the fire was officially deemed to be under control.
As of daylight, the remainder of the 4300 Building's roof had collapsed, decimating all three businesses underneath it. The Boardwalk Chapel had survived thanks to a liquid curtain that had been set up along the alley. There was smoke now, forever billowing, as investigators crept into the t-shirt shop's storage area, where a Sheriff's K9 detected the presence of acetone – an accelerant – beneath several piles of debris. Up on street level, officials confirmed that the 4300 Building's owner had been served with a $9,600 fine for failing to rectify a series of code violations. Officials further confirmed that said fine had been levied less than 24 hours before.
In the hours after midday, investigators acknowledged that the fire might have been an act of arson. Arson, which had become an epidemic throughout the Wildwoods to an extent that of the 16 major boardwalk blazes between 1980 and 2000, nine had been adjudicated as if someone had set them. Nine fires, 100% of which had been consolidated to an 11-block stretch between Montgomery and Pine Avenues. Nine fires, 100% of which had taken place between the final week in August and the third week in December. Nine fires, 100% of which had occurred during a four-month span when the promenade was either shutting down or completely empty.
Wildwood's three most recent boardwalk fires – including the one inside the 4300 Building – had occurred within a three-block strain over the course of five years. Two of those fires shared indeterminate origins, rendering it difficult for insurance companies to deny any of the claims. There was a pattern emerging, and it was so exact as to be insulting. As a case in point, consider a boardwalk fire that had ripped through an entire block between Spicer and Spencer Avenues during 1988. That fire, which was ultimately ruled suspicious (yet indeterminate), resulted in $2.5 million worth of damages, while simultaneously causing 13 injuries due to a combination of smoke inhalation and people escaping by way of several second-story windows. Said fire was initially reported at 3:55 AM on August 28th. The 4300 Building's fire was initially reported at 1:45 AM
on August 29th.
Two fires, straddling a 12-year period, with a 250-meter distance in between.
Fires were a drag, particularly for any unsuspecting storeowners who had slaved throughout the summer in the hopes of turning a profit come September. Three months of work had just gone down the drain. Meanwhile, the odds seemed long against pinning the crime on any suspect. There were no cameras along the promenade at 4300, and it appeared unlikely that any reliable eyewitnesses would step forward. Add to that the fact that raging fires wielded the potential to destroy forensic evidence, and it became reasonable to assume that no errant firebug would be apprehended. The summer would end, and the postseason would move forward, and the owner of the 4300 Building, who lived in Coral Gables, Florida, would have nine months to sell his lot
or build anew.
For more on this incident, check out the U.S. Fire Administration's 53-page investigative report. 
Day 1,710 

(Moving On is a regular feature on IFB.)
©Copyright Bob Hill
Member, American Authors Guild