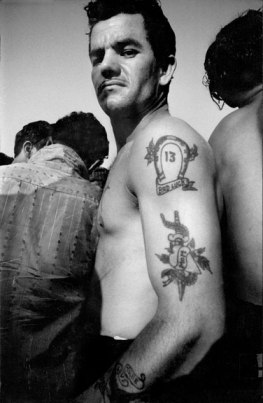 Ernest Ingenito was a wayward seed, boy; a stinkin' varmint void of core.
Ernest Ingenito, who spent his adolescence spinning in and out of Juvie, who was drafted during World War II; who was dishonorably discharged after assaulting his commanding officer; who served a two-year bid at Sing-Sing before settling down in southern Jersey; who found himself a second wife and built himself a family; who drifted into exile; who philandered like a hog.
Ernest Ingenito, boy, who lit out across the Pine Barrens one November night in 1950, en route to see his estranged wife and two children; who forced his way in through their parlor before gunning down his father-in-law; who shot his wife down with a carbine while both sons hid down the hall; who chased his mother-in-law out through a door, across a field, into a home, where he blew her brains against a wall.
Ernest Ingenito, boy, whose batshit crazy killing spree claimed the lives of five innocent people, while critically injuring four more; whose wife, Theresa, lived to tell despite a bullet in her torso; who – upon final sentencing – was quoted as insisting, "I am sorry about them, naturally. But I do not feel as if I am responsible at all."
Ernest Ingenito, boy, who benefited from a loophole in the system that allowed him to serve out five life sentences concurrently; who was released from Jersey Prison during the Spring of '74; who found a home in Mercer County and sought out work as a stone mason; who'd been remanded to state prison during July of '94; who was currently serving out 200 years as a result of 38 counts of deviant sexual behavior, each of them involving the prepubescent daughter of his girlfriend.
Ernest Ingenito, boy, who came up hard on the mean streets of Philly; who was stationed in Virginia throughout the height of World War II; who once massacred nine people across both Gloucester and Atlantic Counties; whose health was slowly fading at the ripe old age of 70.
Who was born – and for a time, raised – in the crimson heart of Wildwood, New Jersey.
He was the armpit of humanity, and he punished every living soul that ever deigned to care.
***
It was the second week in September, 1994, and I was sitting on a boardwalk bench along the jagged crook at 26th Street, passing back a Marlboro cigarette with a Derry lass named Anna Kaye. Anna Kaye was pale as paper, short and thin with auburn hair. She was dressed in orange clamdiggers, still boasting a slight blonde streak from the summer days of yore.
Anna Kaye was all but stuck now, stuck in Wildwood, stuck in Jersey, having exceeded her work visa more than a year or so before. Anna was renting a one-bedroom down on Spicer, living alone in the same space that she had once shared with her ex-boyfriend. Anna ran the boardwalk games just south of Mariner's, and – much like me – she'd been scrounging for what little work was still available, tearing down the very tentpole stands that had previously employed her.
Anna Kaye, she never talked about her family. She never talked about her friends or all the dreams she'd left behind. She never talked about the fact that there were seeds of southern Jersey in her accent; that her once-sharp falling diphthong had since gone mild and weak. Anna never talked about the fact that barring marriage, fraud or deportation, she might never see North Ireland again. She was a stranger in a strange land now, a disconnected number with no further information. As a consequence, Anna had grown ultra-inquisitive, forcing the arc of idle discourse lest it circle back to her.
Anna Kaye and I were on a half-hour break, mulling over a page-one story from The Philadelphia Inquirer. This story was about a 17-year old named Dolores DellaPenna who'd gone missing from the Tacony section of Northeast Philly during July of 1972. According to The Inquirer, 11 days after DellaPenna disappeared, her arms and torso were discovered off an old dirt road in Ocean County, New Jersey – every fingertip shaved down to avoid identification. One week later, DellaPenna's legs were discovered along an unbeaten stretch of Route 571, eight miles removed from the original site.
DellaPenna's head had never been recovered, nor had anyone ever been officially charged in connection with the crime. But her story had suddenly taken on new relevance, thanks in large part to a pair of highly credible state's witnesses, both of whom had surfaced almost simultaneously, more than 20 long years after.
Both witnesses were prison inmates, one of them an outlaw biker who had previously written to DellaPenna's father, confessing he was the former owner of a borrowed vehicle that was used in the abduction. The second witness, who was only 16 years old at the time of the attack, put himself inside a North Philadelphia auto garage where he claims DellaPenna had been taken on that evening. According to his testimony, DellaPenna had been brutally beaten and then gang-raped by a small group of local drug dealers, all before being held down and dismembered via machete.
Dolores DellaPenna, he insisted, was still very much alive when the dismembering began.
The one significant detail both witnesses seemed to agree upon was this: Dolores DellaPenna had originally been marked following the alleged theft of a small quantity of drugs from a summer stash house located in Wildwood Crest, New Jersey.
As of the second week in September, 1994, three of the six suspects in her murder were already dead.
***
The violent crime rate in Wildwood had dropped an astounding 16% by the end of that summer. The local police force had gotten back to making quality arrests, improving its year-to-year clearance rate by an outstanding 6%. There was very little variation in terms of non-violent offenses, but those numbers paled in comparison to the mind-boggling 26% drop in sexual assaults; the 23% drop in aggravated assaults.
And yet, the island's public image was simultaneously reeling, primarily due to the ongoing fallout from a number of highly-publicized incidents, the majority of which took place somewhere inside the city limits despite the fact there were no residents involved.
There was, of course, the unresolved matter of Rene Ouellet – a Canadian transsexual who had disappeared into the night during the summer of 1992. There was also the long-lingering matter of Susan Negersmith, a 20-year old girl from Carmel, New York whose death had been ruled accidental, 26 separate areas of trauma on her body notwithstanding. Meanwhile, there was an entire media fervor surrounding the Superior Court trial of Stephen Freeman – a 20-year old soccer player from Delaware County who had just recently been acquitted of murdering his high school rival while vacationing in North Wildwood during the Summer of '92.
Sitting on the bench that afternoon, Anna Kaye's inquisitive nature had me sifting through an entire catalog of gruesome incidents, including everything from Ernest Ingenito to the 1938 shooting of Tuffy the Lion.
"So this Stephen Freeman kid," Anna eventually interjected, cutting me off before I could make my way directly back to 1890, "you're telling me he came all the way up here from some shitty little shanty town in Delaware?"
"No," I said, staring straight up at the gun-metal-gray sky above, "Stephen Freeman traveled here from Delaware County. It's a tiny suburb in southeastern Pennsylvania, about 15 minutes south of Philadelphia down I-95. Mostly white, upper-middle class … you get the idea."
"And how exactly is it you became such an expert on Delaware County?" Anna Kaye asked sarcastically, "What are ya, from there or somethin?"
"Fuck, no," I said, folding up The Philadelphia Inquirer as I stood up to leave, "I'm from here."
Day 600

(Moving On is a regular feature on IFB)
©Copyright Bob Hill