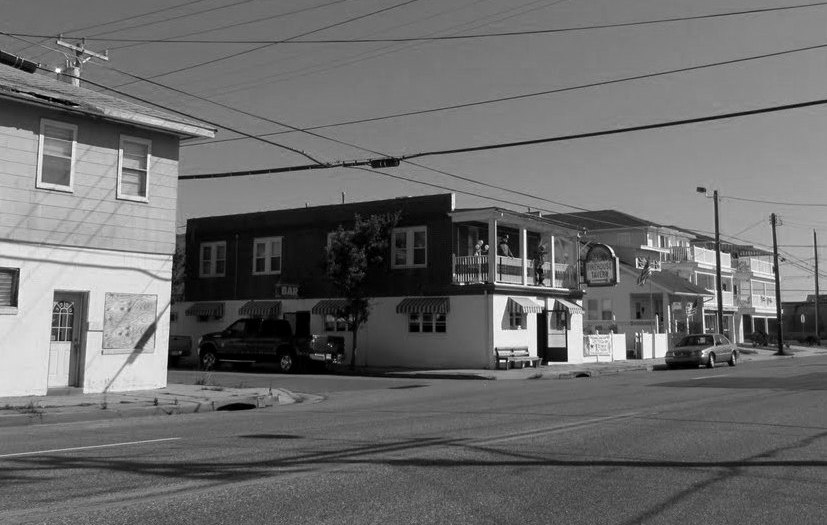 "Hey, Fred."
This is what Robert Connors said. He was buzzed, but not drunk, slumped alone over a barstool at the Firehouse Tavern around 2 AM. It was the second Friday in May, a week prior to when the crowds and city ordinances would allow for every bar to remain open until 5.
Frederick Simmons had just entered along with a second man whom Robert Connors did not recognize. The two of them were drunk, coked-up, both black and in their mid-thirties, with Simmons looming large over the second man at 6'0, 290. The two men separated, with Frederick Simmons flanking Connors as his partner cruised the bar.
Robert Connors was a local, and he knew Frederick Simmons from winter nights spent working at the Wildwood Bowl. The two of them exchanged pleasantries, at which point Connors noticed something out of the corner of his eye. The second man, John Poteat, was brandishing a club, which he slammed down on the galley, demanding money from the bar.
When the bartender refused, John Poteat struck him in the shoulder, wooden club glancing the deltoid with a thud. Frederick Simmons escorted Connors into a bathroom, where he flew into a rage, slamming Connors' head into a sink with such intent it broke the mold. There was water spurting forth now, and the two of them slid down low onto the floor. Connors turned, just long enough to see Simmons' head cast like a halo. There was a flash, and then a thunder, a rusty switchblade piercing Connors before it garroted his throat. There was blood, the sound of gurgling, hot water hissing forth from broken pipes. Frederick Simmons pushed himself up off the body, trudged wet footprints through the bar. John Poteat was on the sidewalk, fighting off a battered bartender who had refused to let him go. Simmons emerged, then doubled back, thinking better of getting caught up in the mess. He hurried south toward a service exit, making his getaway alone.
***
The Firehouse robbery led every local newscast the following morning. Robert Connors was dead, the bartender had been hospitalized, and both assailants had been apprehended. Frederick Simmons had confessed and – assuming he was found guilty – it could potentially set up Wildwood's first capital punishment hearing in over 30 years. The closest county officials had come to dealing with this level of malice involved the prosecution of a man named Chung Ho who had shot and killed a Lower Township police officer back in 1994. Mr. Ho accepted a plea deal to avoid facing the death penalty. It was unclear whether Mr. Simmons would attempt doing the same.
Negative headlines ruled the roost, each of them occurring at a time when Cape May County was quietly yielding a higher per-capita crime rate than Camden, albeit on the strength of non-violent offenses. The problem was systemic, a combination of low income and seasonal tourism. Wildwood's clearance rate kept lingering around 20%, a majority of which could be chalked up to drunken vagrants committing crimes, then skipping town the following morning. Leaving the scene was a built-in part of the apparatus in most tourist havens. People came, they drank, then they treated the entire destination like a sewer, perhaps explaining why 7% of Wildwood's year-round population would report itself the victim of a crime at some point during each season.
Things had not gone well during the opening months of 1996. In January, there was the brutal rape and murder of Erin West, a local girl, age 24, found dead by her mother in the bedroom of her apartment. West had been stabbed more than a dozen times, a broken blade protruding from her jugular. She was found naked from the chest down, a pillow case covering her head. It took two and a half months for local authorities to bring charges against the suspect – a close friend of West's named Deanno Wright, who had acted as a pallbearer at her funeral. Wright initially denied the allegations. His trial was currently pending.
In April came the murder of Rebecca Russell, a 22-year old from Wildwood Crest who was strangled to death, then wrapped in plastic, before being driven out to Erma, where her body was deposited beside a creek bed two miles south of Rio Grande.
I knew Becky Russell. That is to say we were acquaintances. Her father owned the Speed Pitches on Surfside Pier and Becky would work there throughout every summer. The two of us hung out with the same circle of friends during the off-season, a dozen or so unemployed losers cramming into the same back-bay apartment, night after night. Very few of us had anything in common, save for the fact we had chosen to remain in a desolate shore town beyond the end-point of September.
Becky was thin and fragile, bookish, with blonde, curly hair. She attended high school in Pennsylvania, but moved back to Wildwood Crest after graduation. Becky was a homely girl, the type who might prompt relatives to say, "You don't have to worry about that one." And the story went that James McGlinsey – a 24-year old from Philadelphia – had asked Becky out after meeting her at a Cape May bar known as Carney's. Unbeknownst to Russell, McGlinsey was a sex offender, one who had just served two years for sexual assault. McGlinsey had been released in March of 1995, at which point he'd settled low in North Cape May.
The rumors surrounding Becky's death were scandalous – some people claiming McGlinsey had attached a hand-written note to the body, others insisting Becky's corpse had been stuffed inside an abandoned refrigerator. What remained consistent was that Becky had been murdered inside McGlinsey's apartment. There were no immediate signs of sexual trauma and McGlinsey made no formal statement throughout his arraignment. According to the AP, the suspect had driven as far south as Baltimore before reversing course and turning himself into Cape May County police.
I was still at Penn State when the news of Becky's murder broke, and throughout that week my mind came unglued with churning thoughts of all the ill-begotten hamlets, tiny backwater towns where – once in a blue – somebody might do something inconceivable to somebody else, prompting somebody completely unrelated to say, "You just don't think it's gonna happen around here." It struck me that nobody ever said that about Wildwood. In fact, it occurred to me there must be some kind of stigma hanging over any Podunk village where three people could get murdered over the course of three months. Perhaps it was the downtime, or the town's proximity to the tides. Perhaps it had something to do with being the bastard child between Stone Harbor and Cape May. Whatever it was, there was no denying a certain meanness in the air, most of it emanating out of the center of town. Mass murderer Ernest Ingenito had been born and raised in Wildwood, and so too had Maureen McDermott – the first woman to have her death sentence upheld since California had reinstated capital punishment. It seemed an odd pair of alumni for a town so unassuming. And it seemed odder still that three brutal murders could occur there during the course of one winter, those cloying months during which all the work has gone and every social contract has expired. During the off-season one found nothing but darkness, forbidden waters, drawn blinds and folded tents, abandoned blocks and vacant buildings, an island shuttered much like every haunted house you've ever known. Here stood an oasis where evil feats were given to wander; here stood a system where exiled pariahs were given to roam.
And yet, I was drawn to it, transfixed, perhaps for that reason. On the best of days – and I truly believed these to be the very best of days – I would describe Wildwood in the same gushing terms Norman Mailer had previously used to describe his beloved Provincetown:
"The reason I came to Provincetown is that it's the only town in America that has any connotation for me. In other words, it's the only town I can think of as being my town, a town I might have grown up in, a town I might have been born in. I've been coming here for 20 years, and I think it's one of the few towns in America that possesses any natural beauty. We have many, many beautiful small towns in America, but this one has a beauty which is not a privileged beauty. It is rather a natural beauty, a casual beauty, even a tawdry beauty. This is a town that has a terrible reputation. It's a honky-tonk in summer. My favorite name for it is 'The Wild West of the East'. It is a wild place in the summer. In the winter, it's a cold, lonely, forbidden place. There are very few people in it, just fishermen. But it's a town which has extraordinary character. It's as hard as the elements – bleak, strong, filled with contrast. So that you can live in a small town and work in a small town, and at the same time feel like you're in touch with something fairly elemental."
This, this was how I had come to feel about Wildwood, New Jersey. This was why I could never feel so passionate about any other place again. I had found my east of Eden, having moved back for the season the very week the Firehouse robbery occurred. I planned on settling long there
in the Fall.
Day 1,077
(Moving On is a regular feature on IFB.)
©Copyright Bob Hill