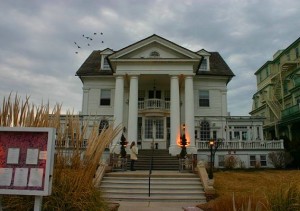 There are two reasons why December 3, 1993 will always stand out in my mind. The first reason being it was the date of Meghan's Junior Ring Mass. The second reason being it was the day her older sister died.
It is unlikely I would have remembered the first had it not been for the second.
Either way, the two are inextricably connected for all-time.
Perhaps that's because I was sitting in an auditorium at Wildwood Catholic along with the rest of Meghan's family right about the time a series of ambulances went screaming down New Jersey. Perhaps it's because three generations of Meghan's family continued out onto the high school lawn, unaware of what was simultaneously unfolding less than 200 hundred yards from where they stood. And perhaps it's because Meghan's older sister was being pronounced at approximately the same time a high school junior name Donna DiPaola stepped up to deliver this passage from the New Testament Book of Ephesians: "Be completely humble and gentle; be patient, bearing with one another in love. Make every effort to keep the unity of the spirit through the bond of peace. There is one body and one spirit, just as you were called to one hope when you were called; one Lord, one faith, one baptism; one God and father of all, who is over all and through all and in all. But to each one of us grace has been given as Christ apportioned it. This is why it says: 'When he ascended on high, he took many captives, and gave gifts to his people.'"
Perhaps.
But the reality was – and is – regardless of what happened when, where, or how that crisp autumn morning, the death of Meghan's sister represented a considerable blow. And, much like any other considerable blow, this one created a ripple effect, one that tore down and through the ghostly doldrums of Wildwood that off-season, forging alliances, diminishing returns, and laying waste to all of those left quivering in its wake. 
***
A few days prior to all of this, I had moved my belongings over to a 2nd floor apartment on the west side of 16th Street. This was the result of an extremely generous – albeit temporary – offer extended by a struggling couple named John and Stacey, both of whom took mercy on the fact that I was young, and broke, and in love, grinding it out night after night in a ground-level apartment despite an utter lack of central heat or insulation.
The two of them verbally agreed to let me stay with them throughout the month of December. In return, I agreed to pay them $100 rent – a meager sum which guaranteed me constant access to free heat and proper plumbing, cheap electric and clean blankets. Living conditions were tight, and so too were household finances. A good night in that apartment meant John and Stacey could afford to treat themselves to a two-liter bottle of Pepsi. An extremely good night meant I could afford to treat John to a dirt-cheap case of beer.
It was a simple, wholesome way of being, steeped in generosity and compassion. And yet, this new arrangement did not come without its drawbacks – chief among them the fact that I was now living directly across the street from Meghan's older sister and her fiancé, a lifelong local who was also named John.
John owned Al the Steak King – a year-round sandwich joint located on the nearby corner of 25th and New Jersey. Most evenings, Lauri would help John manage the place. As a courtesy, she would never ask nor allow me to pay for any order – an extremely kind and thoughtful gesture that eventually led me to avoid the Steak King altogether. My lack of patronage had a lot more to do with placating Meghan than it did my own sense of propriety. As far as I was concerned, Lauri and John were the well-ground salt of the earth. Lauri was my age, after all. What's more, she and I had gotten along famously during the handful of occasions when we had sound reason to interact. But none of it ever sat well with Meghan, who was still seething over family differences her older sister couldn't control. A few years prior, Lauri had gone off to live with Meghan's mother. In the wake of that, Meghan's resentment only grew, primarily characterized by an unyielding brand of sarcasm, and the tense series of confrontations that ensued.
***
December 3, 1993 – my roommate Stacey was calling Meghan's landline repeatedly that morning, leaving frantic messages about an urgent situation currently developing across the street. There was an ambulance on the scene, Stacey explained, along with a plethora of police cars and an entire retinue of public safety personnel.
Stacey left 8-10 voicemail messages in all, the last of which was accompanied by a gentle plea for Meghan to simply contact Lauri's fiancé. There was a gurney being wheeled out of the apartment, according to Stacey, who had stopped herself just short of revealing what several neighbors on the sidewalk had already confirmed.
Certain truths, Stacey reasoned, were not within her jurisdiction to convey.
***
That night, Meghan decided to go forward with set plans to attend the Junior Ring Dance.
She wore an emerald dress with low-cut heels that matched her emerald eyes, and I wore a navy blazer with faux-gold buttons that jingled off the cuff.
I maintained my distance throughout that evening, allowing Meghan ample room to move about. In fact, the only moment I can remember the two of us interacting on any level was during the last song, an encore rendition of "A Whole New World" from the Disney film Aladdin.
As Meghan and I eased forth in time, I found myself trying to consider the day's events from her perspective. What was she thinking? What was she feeling? How was she doing? Why the staunch refusal to break down? Stand down? Run screaming from the building? Did the whole thing boil down to some acute level of resentment? Denial? Deferment or forbearance?
Because the reality was, I simply did not know.
And to be honest, the whole not-knowing really irked me, particularly because it implied a lack of trust. This was a selfish line of thinking, to be sure. So selfish, in fact, that it eventually caused me to weep out on the dance floor, in open view of Meghan's classmates. I cannot tell you why or how I would allow myself to do such a thing, only that it came from an extremely honest place, and that I lied a minute later when Meghan asked if I'd been crying.
When at last the song was over, Meghan dug our coats out from a pile, and we made our way out through the kitchen. We were heading east now, toward the boardwalk – a place where we could sit, and smoke, and discuss the only topic that had been evading us all day.
***
Meghan's older sister died of complications from Bulimia.
Apparently, Lauri had depleted her system to the extent the entire mechanism was running on fumes ("A dangerously low level of electrolytes" was the constant phrase being bandied about). Many of those closest to Lauri were aware that she had struggled with disorders. But the prevailing wisdom was she had put all of that behind her now, along with an entire litany of root causes and excuses.
Meghan was explaining all the details as we wandered arm-in-arm along the promenade – an ongoing series of creaks and whistles chasing one another down each corridor. The two of us stopped for a  cigarette along the corner of 19th Street, where we hunkered down beneath the pallor of dual flood lights beaming low.
"Maybe something good'll come of this," I said.
Meghan pulled her coat tight, traced long shadows on the boardwalk.
"Like what?" she responded, without looking up.
"Like, I don't know," I said, "like, maybe there's an opportunity here, y'know? Like, maybe this is a chance for you and your mom to finally reconcile. I mean, I know things have been kind of rough, and I know you say a lot of that is actually your mom's fault. But what if you could just kind of take the first step, y'know? Like, be the bigger person and what not? I imagine your mother's gotta be hurting pretty badly right now. Maybe if you could just do something as simple as, say – "
"STOP TELLING ME HOW TO DEAL WITH MY FAMILY!" Meghan howled, hollow echoes stretching out across the promenade.
"You have no right," she continued. "I mean, for Christ's sake, Bob, you don't even talk to your parents. Either of them. In fact, you run away from your goddamned parents every chance that you get. And now you're gonna stand there and condescend to me about how I should work things out with my parents? Here? Now? Tonight? This night? I don't think so."
Meghan's eyes were welling up now, full-blown tantrum held in check by lack of sleep and better judgment. She turned away, retreated to a bench overlooking the ocean.
"I'm sorry," I said, before sidling in alongside her. "You're right. Everything I just said was out of line. I was out of line."
"I know," Meghan said. She was leaning into me for warmth. "I don't want to talk about it anymore, OK?"
And so we sat, my Jersey girl and I, staring out upon an open sea obscured by passing clouds – neither one of us in any shape to accurately articulate the metaphor.
***
I arrived at Meghan's house the following Monday still wearing the same blazer I'd been carting around all weekend. Meghan was in the back room getting ready at the time, so I took a corner seat on the divan, trying hard not to stare into the dining room, where Lauri's fiancé sat at the table, head bowed, confronting his reflection in the glass – bulging eyelids hanging low; gaunt complexion flat and gray.
He was devastation, personified; a walking study in despair.
I had no driver's license at the time, and so I hitched a ride with Meghan's aunt to the Assumption, where a stagnant line of mourners wrapped around the block and back again. Once inside, Meghan waved me forward to sit in the front pew. For the next 40 minutes, I received a constant stream of the bereaved … not a-one of whom had the faintest clue what to make of me.
And yet, I lacked the staunch maturity to step aside – compelled to stand my ground by some golem trapped inside of me. It was as if I had this need to be identified as Meghan's boyfriend; a selfless, kind, and giving soul who had readily availed himself during this, her distraught hour of need.
So I sat, leaning hard against the rail, listening to some preacher describe what a remarkable model and athlete Lauri always seemed to be. Then I sat and listened some more, as a relative of John's read a poem he had written entitled "My Princess is Gone Now" – a gut-wrenching piece of work rendered all the more poignant given the emotional tone and space it was inhabiting.
Midway through the service, I swiveled round to find there was no standing room across the back of the Assumption. At a glance, it looked as if half the island must have crammed itself into the church that morning – the bulk of those attendees loose acquaintances of Larui's, at best.
Could it be that this was all part of the deal when you grew up in a small island community? Could it be that the entire populace would somehow summon strength from mass affliction? That it was at its best in times of trouble? Could it be that these rare, unspeakable tragedies were actually part of what tethered a people to one another? Could it be that there really were no small coincidences? That every significant detail regarding this event, from the generous offer for me to move into a proper living space, to the fact that living space was located directly across the street from Lauri's apartment, to the fact that both of those apartments were located directly across the street from Wildwood Catholic, to the fact that Meghan's house was located only a few short blocks from all three … I mean, could it be that all of this was an integral part of growing up in a Podunk town like Wildwood, New Jersey?
Because that … well, now, that certainly didn't seem like such a rotten deal to me.
***
Later that afternoon, there was a posh reception held at the Peter Shields Inn on the beachfront edge of north Cape May.
At some point after lunch, I slipped out through the rear stairwell, took a walk across the street to Trenton Beach, where I stood tall upon the rocks, staring out across stone jetties. Imagine: 83 years' worth of shoveling the same shit just to keep your fucking head above water.
All along that bustling stretch of road, B & Bs were wrapped up snug in velvet bows; ice-white chasers hanging low from Georgian terraces. The smell of fresh pine cut the air.
Looking back across the way, I could see my girlfriend Meghan sitting portside with her mother, the two of them leafing through old family albums on the porch. Meanwhile, an entire coterie of locals was filing out via the grand staircase, eager to cross the Midtown Thorofare into Wildwood before nightfall.
I took one last drag off of my cigarette, flicked my ashes in the drink. Then I hurried back across the street, where I joined Meghan and her mother out on the southern lawn.
The posh reception was all but over now.
It was high time to go home.
It was high time to go home.
Day 370

(Moving On is a regular feature on IFB)
©Copyright Bob Hill