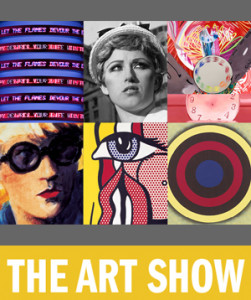 It certainly is one hell of an affair, all this crazy warehouse art fair bullshit. On the one hand, you've got a ton of A-list talent showing off their greatest work. On the other, you've got all this whacked-out tradeshow nonsense, including cheap swag and corporate kiosks; keynote speakers and group panels. It's not so much the intersection of two divergent interests as it is a 10-car pile-up somewhere along the side of Art & Commerce.
Either way, it certainly is what's going on this weekend, thanks to a pair of traveling sideshows – one being held at the newly renovated Armory, the other all the way across town at Pier 92/94. The Art Show at The Armory is celebrating its 25th year, with a pretty unbelievable array of top-notch talent on its roster. The Armory Show, meanwhile, offers a lot more in sheer terms of quantity and quality. The only issue with either being the entire premise just kind of falls flat on its face. I mean, during peak hours, the foot traffic alone is enough to make one question what it is he or she is actually doing there to begin with. Meanwhile, the price of admission is ridiculous and the on-site costs will suck you dry.
As a general rule, if you are attending one of these events as a necessary matter of business, well, then, more power to you. If, on the other hand, you're an out-of-towner wholly interested in the redemptive power of great art, you'd be just as well served to go birdwatching in the center of Times Square as you would be trying to enjoy a meditative experience in the midst of all this dog and pony.
(The Armory Show and The Art Show at The Armory both run from now through Sunday, March 10th. General admission to The Armory Show is $30. Admission for The Art Show is $25).
Five More For the Offing: