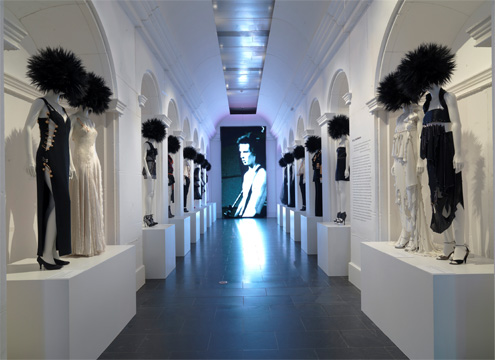 Immediately after entering the Metropolitan's new Punk Rock exhibit, the eye is drawn to a far-off replica of the original CBGB's men's bathroom. And why not, really? I mean, the thing is quite a spectacle, almost like seeing an extinct creature preserved outside its natural habitat. Only upon closer inspection, you come to realize that this … this is actually a different creature entirely. For the air inside the Metropolitan is staid, antiseptic; and the graffiti inside this unreasonable facsimile is far too territorial, strategically placed. Turn your head in either direction, and you'll find yourself deep inside the halls of Valhalla – high ceilings, stilted archways, immaculately seamless
white walls.
Therein lies the rub of Punk: Chaos to Couture. It's a spectacle to behold, no doubt about that. There are cavernous displays capped off with 30-foot projection screens, each of them playing looped footage from the punk rock days of yore. There are statuesque mannequins bathed in iridescent light, each of them draped in some manner of haute couture. There are historical curiosities waiting around every corner. But the footage is muted, the outfits are curated, and the curiosities are staged. In other words, what you're experiencing is the punk rock equivalent of visiting the Museum of Natural History to watch wild animals roam the jungle. For what is punk rock without the feedback, stench, and steadfast air of rebellion? The answer is that it's just like everything else – fashionable, marketable, capable of being co-opted in order to attract a
younger demographic.
None of which is to say it isn't quasi-fascinating, because it is.
Otherwise, it wouldn't be so viable.
(Punk: Chaos to Couture runs through August 14th @ The Metropolitan Museum of Art, 82nd Street & 5th Avenue, free with suggested donation.)
Five More For The Offing: