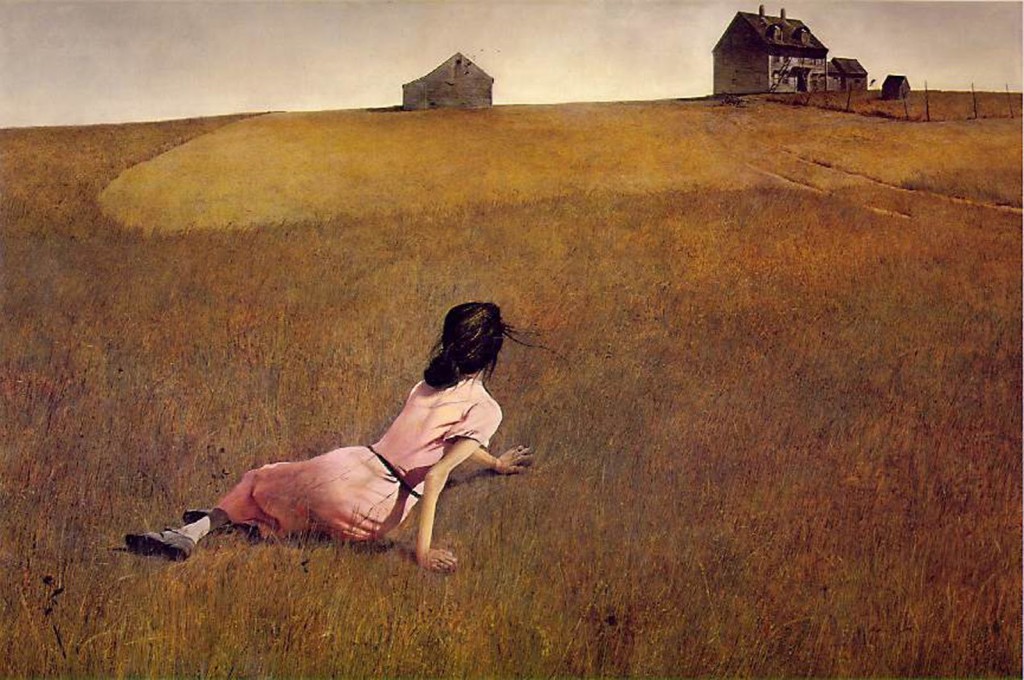 A few years back – and by "a few" I mean several – I happened to be at The Museum of Modern Art when I came upon Christina's World by Andrew Wyeth. At a glance I was almost sure that I had seen the work before, what with having grown up a mere stone's throw from Wyeth's home in Brandywine. And yet, the longer that I stood there thinking about it, the more determined I became that that just couldn't be the case … that there was simply no way I could've forgotten about a piece of modern art so captivating.
I must have remained there for at least 25 minutes on that afternoon. There were so many immediate angles to consider – the simplicity, the depth, the innate sense of American values, the identifiable notion of feeling so near and yet so far away from home; the protagonist's posture, so desperate, so intent, so overwhelmingly suggestive of the idea she might be in danger. It was like a potpourri of Steinbeck and Malick and Hopper and Guthrie, the illusion so complete that at no point did I find myself the least bit cognizant of what was happening around me. I had – in the most maudlin and derivative of senses – become immersed inside Wyeth's painting. And that, my friends, is some pretty powerful juju, to be sure.
I pass this along by way of recommending American Modern – an exhibition of more than 100 realist paintings and photographs from MoMA's permanent collection, including Edward Hopper's House by the Railroad (a painting which, coincidentally, provided the inspiration for the panhandle estate seen throughout Malick's Days of Heaven, as well as the Bates Motel from Hitchcock's Psycho), Georgia O'Keeffe's Evening Star, No. III, and – of course – Andrew Wyeth's Christina's World, just to name a few.
It's an embarrassment of riches twice as memorable as The Rain Room, without the seven-and-a-half hour wait.
(American Modern: Hopper to O'Keeffe runs through January 26, 2014 @ the Museum of Modern Art, $25 general admission, 11 West 53rd Street)
Five More For The Offing: