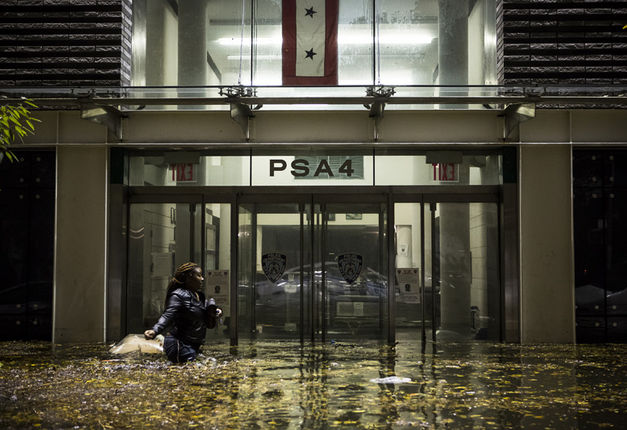 It's a dicey proposition, sponsoring an exhibition that documents any type of natural disaster, especially a recent one. Perhaps more so than anything else, curators need to maintain a vital balance between honor and integrity, avoiding the constant pitfalls of sensationalism. By their nature, these types of exhibitions are based around a situation which irretrievably shook – or perhaps even took – a certain number of lives. The last thing any well-meaning advocate needs is to come off like some asshole selling 8 1/2 x 11s along the fringes of Ground Zero.
The good news is, Rising Waters – co-curated by The International Center of Photography and The Museum of The City of New York – is both respectful and appropriate. Housed in an old and blighted building with cracked paint peeling the walls, every photo appears naked, without frames, fanfare or density. Every print is affixed using thumbtacks, black-marker scrawl providing slight context in the margin. It's a bare-bones approach indicative of the fact that something dear was stripped away here, that wasting money on production flies in the face of mass awareness, that those interested in spending cash on a print should just as soon donate that money toward rebuilding.
The bottom line: It's an exhibition well worth seeing. Hop the ferry. Take the ride.
(Rising Waters: Photos of Hurricane Sandy will be on view at Governors Island Saturdays and Sundays, 12–6 pm throughout September, and on Labor Day, September 2. Free.)
Five More For The Offing: