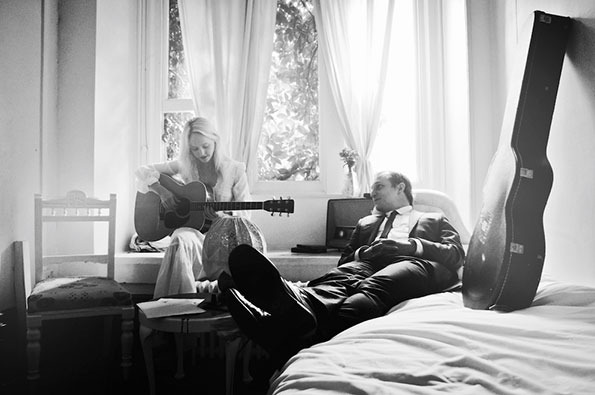 Last week, I sat alone along the aisle in the second pew of St. Ann's Church in Brooklyn Heights, watching Laura Marling record a 50-minute set for FUV. By the time that set was over, I found myself transfixed, feeling a slightly deeper urge to be or offer something better, to rise above the constant nothing I'd become.
Now, granted, the time and venue might've played a crucial role. I mean, it doesn't get a lot more hallowed than a 170-year-old church, one that's flooded with semi-cavernous acoustics. And yet, the lick of the heat was absolutely Laura Marling, standing alone there on the dais, free-strumming the only six-string she'd brought along with her that evening.
Laura Marling, who opened up with a 19-minute suite of new material, who played throughout with very little sense of ego, who inhabited the same space of every narrator in her songs, who stared quite listlessly into the gulf for want of casting out the herd, who never broke out of her rhythm nor exceeded her known range. Laura Marling, who delivered the most honest and gut-pure performance I've ever witnessed on an altar.
None of which should really come as any grand surprise. Laura Marling is a phenom, after all – a 23-year old from Hampshire who's already put out four full albums, every of them complete, every one of them acclaimed (Three out of the four have since been nominated for the UK's vaunted Mercury Prize). Marling won the 2011 Brit Award for Best Female Artist and the 2011 NME Award for Best Solo Act. She just recently moved from the UK to Los Angeles. She hopes to finish her fifth album before Christmas.
Laura Marling is a workhorse, an artist who's almost constantly on tour, inserting and reworking new material on the fly. Marling is gracious and unassuming during interviews, showing no trace of megalomaniacal behavior. She veers away from petty excess and addiction. She appears attractive but demure, self-assured and yet reserved. She has a tremendous sense of altruism. She is the accidental superstar.
Laura Marling's got it all, for lack of any better way of putting it. She's one of the only working artists out there who's acutely reminiscent of Dylan's semi-recent proclamation that "It's about confidence, not arrogance. You have to know that you're the best whether anybody else tells you or not. And that you'll be around, in one way or another, longer than anybody else."
Laura Marling … Laura Marling has that. At the tender age of 23, she is already astonishingly far ahead of the curve. Marling's accomplished more, better, faster and more consistently than just about any other folk-rock artist out there – Patty Griffin? Kathleen Edwards? Lucinda Williams? Kristian Matsson? Laura Marling's trumped them all. She's a juggernaut, an unrepentant throwback who's casting folk into the future. She writes like Joni Mitchell, she belts out tunes like Baez. The beauty of it being, any way you see fit to cinch it, Laura Marling's built to last. She shows no outward signs of fading. And, at the extreme risk of dealing in superlatives, one might even go so far as to declare young Marling the very best thing to emerge out on the folk scene since the beginning of the 70s.
She is just that goddamn good.
(Please Note: The above photo is part of a professional set taken by Hanson Leatherby.)