David O. Russell's American Hustle is an incredibly likable film that moves so quickly one seldom notices the lapses. By lapses I mean the fact Russell's film is so loosely based on historical record it actually borders on absurd. How can this be, one might ask, especially given several of the public figures involved are still living? Answer: America Hustle is a byproduct of Hollywood, a billion-dollar land-of-make-believe where securing clearances and changing names represents more than ample grounds.
Based on the box office success of Inglourious Basterds – specifically, one unforgettable sequence during which, "history went one way and [Tarantino] went the other" – major studios came to recognize the skyrocketing potential for revision. The primary issue being only a handful of screenwriters – and even fewer directors – maintain the delicate touch of a Quentin Tarantino. As such, what most studios end up with is a schizophrenic chunk of cinema, one in which the truth is simultaneously slipping both in and out of focus. Uproariously entertaining, if not utter hogwash, all the same.
Enter American Hustle – a screenplay that's so expertly taut historical record never really seems to matter. Here we find David O. Russell doing his best Martin Scorsese – all quick cuts and dolly shots, multiple zooms and montages. Hustle's storytelling is non-linear and it's related via the perspective of two essential narrators. The result is a furiously-paced bonanza, one in which Russell is clearly encouraging his entire cast to go for broke. To that end, Hustle's A-List ensemble is a shoe-in for multiple Oscar nods. Here now – in that spirit – is a breakdown of American Hustle's five principal cast members, listed in descending order based on how vigorously each one deserves an individual Academy Award: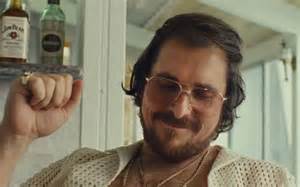 Christian Bale (Irving Rosenfeld). Perhaps the most amazing thing about Christian Bale's career (and there are several amazing things about Christian Bale's career) is that he's somehow managed to avoid the usual trappings of prepubescent stardom (Bale's breakthrough role came at the age of 13 in Steven Spielberg's Empire of The Sun), maintaining a progressive trajectory for 25 straight years. Bale, who is now 39, remains the epitome of professional range and commitment. The two films he's done with O. Russell (The Fighter and American Hustle) required extreme weight loss and extreme weight gain, respectively. Meanwhile, Christian Bale has absolutely mastered the persona of brooding, debonair businessman (American Psycho, The Dark Knight Trilogy), family-focused gunslinger (3:10 to Yuma, Out of The Furnace), brilliant, bad-ass renegade (The Prestige, I'm Not There), and art-theater auteur (The New World, Flowers of War). And yet, throughout American Hustle, Bale plays something other entirely. His transformation, from appearance to accent to sheer off-hand mannerisms, is nothing short of amazing. If Christian Bale doesn't wind up with a Best Actor nomination for his role in American Hustle, it's the Academy that's to blame, not the dry cleaner in a toupee.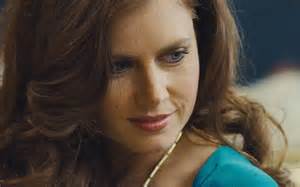 Amy Adams (Sydney Prosser). Bluntly speaking, it is not so much Amy Adams as it is her chest that deserves its own Oscar for this role. Adams is playing against type here, and it's such an unexpected turn one cannot help but be enamored. I mean, this is Amy Adams we're talking about, divine subject (The Master), semi-virginal nun (Doubt). While Adams has certainly been cast in the role of trollop several times (The Fighter, Catch Me If You Can), she's never quite amped it up to this level. What's even more commendable – at least in terms of acting – is how the audience winds up rooting for Prosser, this despite the character's self-gratifying, often times even manipulative, motives.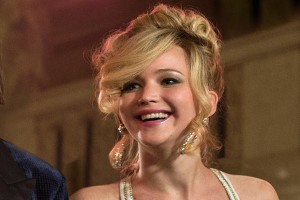 Jennifer Lawrence (Rosalyn Rosenfeld). During a recent New York Film Critics interview, David O. Russell insisted that "the stronger the female characters [in a film], the better the picture." True to his word, Russell cast a pair of female heavyweights in American Hustle, the strength of both forces creating a great deal of tension. Chances are, Jennifer Lawrence will be nominated as a supporting actress (Pushing that agenda might allow for a clean-sweep across all the major categories). Lawrence's Rosalyn is fickle and funny and off-putting in the best possible way. More importantly, she goes toe-to-toe with Christian Bale. Despite never missing a beat, Lawrence's turn is still no match for her initial breakthrough in 2010's Winter's Bone, a leading role that landed the 23-year old her very first Best Actress nod.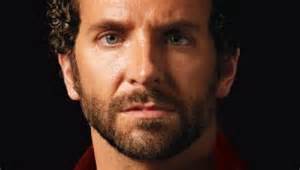 Bradley Cooper (Richie DiMaso). A lot of critics will insist that Bradley Cooper "has never been better" than he is during American Hustle. But that's lazy and misleading and wholly indicative of the fact most reviewers are working on deadline. Bradley Cooper was much stronger in The Place Beyond The Pines – a role for which he should be nominated, but won't be. This is not to say that Cooper is not on his game throughout American Hustle, it is simply to say that the budding actor is outclassed, time and again, by a much more competent Bale.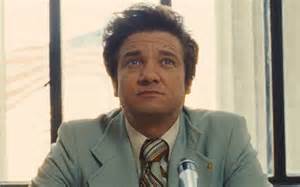 Jeremy Renner (Carmine Polito). Renner (AKA The Little Big Man) plays the most admirable character that appears in American Hustle, and yet he's arguably the least likable. Renner does an ample job, compartmentalizing most of his trademark brood. But he winds up at the bottom of the totem by sheer virtue of default, which, of course, makes him a long shot for any individual award consideration. 

So there you have it – Christian Bale and Amy Adams as safe bets for Best Lead, Jennifer Lawrence and Bradley Cooper as decent locks for Best Supporting, and Jeremy Renner, left coiffing his pomp out in the cold. Speaking of which, it's probably worth noting that, metaphorically speaking, one of the most brilliant mechanisms throughout American Hustle is the way each character's hair represents an apt reflection of identity. To wit:
Irving Rosenfeld – elaborate combover with very little underneath.
Sydney Prosser – flashy mane with shifting accents.
Rosalyn Rosenfeld – top-heavy and awkward, completely lacking in self-awareness.
Richie DiMaso – a men's permanent, wrapped waaaaaaaaaaaaaay too tight.
Carmine Polito – a stylish buoffant, ambitious beyond its own means.
(American Hustle opens in select theaters this Friday, with a national release set for next week.)