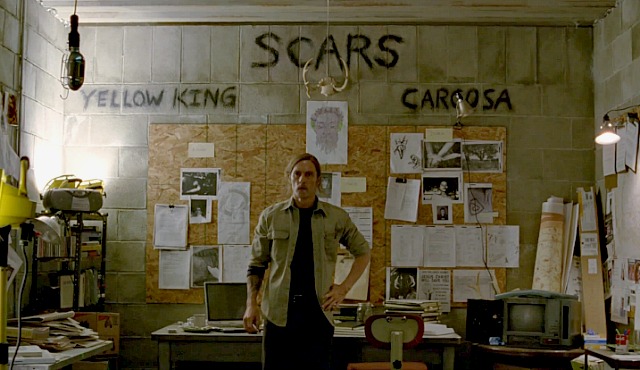 (Please Note: Spoilers abound. If you're not up to date, probably best to hold off.)
The entire thing's laid out bare during that "throwdown in the woods" – murder, mayhem, mystics, a pair of unreliable narrators … sex, death, dosing, drugs, a war-time jungle full of tripwires. This is True Detective making its real intentions known – six is nine and up is down … the world has blurred both right and wrong.
Carcosa, The Yellow King, a corpse with antlers, the Man With Scars … True Detective represents a bold new level in anthology, one solution to a problem that's plaguing good TV for several years. Namely, what does one do after the mystery's exhausted? Well, assuming you're the producers of True Detective, American Horror Story, or even the upcoming Fargo, the good news is, renewal's part of the equation. The bad news is, no brilliant character lasts long.
In that spirit, the eight-week odyssey of Rustin Cohle – and, by extension, Martin Hart – will come to an end this Sunday evening. A tragedy if for no other reason then we've learned so little about Rust Cohle. His records are redacted, his memory astir, his daughter's death's labeled a blessing, despite the fact we're still unclear as to what occurred.
We first meet Cohle working a crime scene, the ritual murder back in 1995. We quickly learn that he's obsessive, intellectual, convinced of nothing but his own beliefs. We learn that Cohle's a skeptic, anti-Christian, that he meditates about surrender in Gethsemane. We learn that Cohle's methodical, amphibian, capable of manipulating any motive toward his purpose. He's positioned as a martyr, an anti-hero, a pair of archetypes we've been conditioned to adore. He's got no past, no home, no family, no account of where he's been between late childhood and 30 (nudge, nudge). His arrival in Louisiana sets the earth on fire, linking God and Satan's fury to a murder in the woods.
What we're looking at is one man's creation of a bogeyman, an imaginary monster inciting fear as control.
Consider Marty Hart, a southern Christian (like both proven victims), prepared to place his faith in Cohle once more. Marty now resembles Cohle – detached from his profession, forever estranged from both his wife and daughters. Rust Cohle played a major part in that, quietly stripping Hart of all he owned. Worst of all, he's got poor Marty back to drinking, slow-dosing him with subterfuge toward a big fall down the road.
What we may be gearing up for is the coup de grace of one man's long crusade – a holy war against religion, against a God who's led mankind astray. It's a commentary on our culture, on the manufacturing of monsters as a means of mass control. And you can bet Rust Cohle will find himself inside Gethsemane, where he'll surrender to the guards once more.
(The final episode of True Detective: Season One premieres Sunday at 9 pm on HBO.)