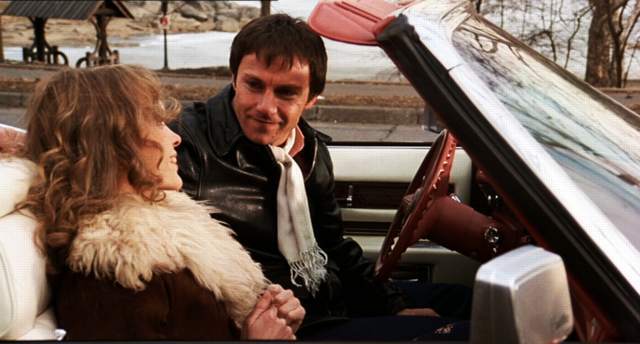 Twenty minutes into Nicholas Jarecki's outstanding documentary The Outsider, Roger Ebert notes, "[Toback's] typical picture is about a very smart guy who's very hung up on sex, and often gambling. And because of the gambling, he gets in trouble with the mob." While that statement may ring true, it is nonetheless remarkable to consider all Toback's accomplished in that framework.
At 69, James Toback has taken on the role of a Svengali, a publicly-polarizing personality that simultaneously attracts people while repelling them. Toback is a Harvard grad, Magna Cum Laude, one-time editor of The Advocate. He's given to addiction; he struggles with compulsion. As a student, Toback took hallucinogenic drugs to the near-point of insanity. As a post-grad, he hasn't touched illegal drugs in years. He's gained a reputation as a Lothario, a brilliant sloth who overcompensates by copulating. In terms of grandiosity, James Toback represents to the east what John Milius once represented to the west. The primary difference being that Toback took flight throughout the eighties, while John Milius dwindled off into the depths.
There is an honesty about James Toback's work that can only be achieved via directors who insist upon writing – or adapting – their own screenplays (Stanley Kubrick, Woody Allen and Quentin Tarantino come to mind). That sense of ownership tends to keep directors taut, willing to campaign for what is true and right and necessary about their work. James Toback, in particular, has never made a film I didn't happen to enjoy. In certain cases, this might've been due to something as simple as a mechanism or a moment (e.g., Harvey Keitel carrying the entire soundtrack under his arm throughout Fingers or Neve Campbell acknowledging the camera toward the end of When Will I Be Loved). In other cases, I might've hooked into some riff regarding god or love or sex and death. Either way, the fact remains there are only a handful of directors who can pull off such a feat, and fewer still who can somehow manage it without the benefit of 60-mil. And so here now, in that spirit, is my list of the top five motion pictures Mr. Toback's ever made:

5. Harvard Man (2001): In the same way surgeons are cautioned against operating on their own children, James Toback might've needed to take a step away from this semi-autobiographical motion picture. The lead character, played by Adrian Grenier, is a cunning, super-intelligent, totally selfless Harvard athlete who just so happens to be "the greatest fuck in the world". The names have changed but the implication remains the same – James Toback considers himself to be a golden god, and he would like it very much if you would recognize that, too. Heidegger, Kierkegaard, sex, drugs, gambling and transcendence … Harvard Man is consumed with the quaint art of pleasure, and the desperation that occurs when one pursues it all too freely.
Notable Members of the Ensemble: Joey Lauren Adams, Ray Allen, Al Franken, Sarah Michelle Gellar, Adrian Grenier, Gianni Russo, Eric Stoltz.

4. The Pick-up Artist (1987): There is this girl that I am in love with, and the rub of it is, this girl (whatever, woman) wants very little to do with me – a dynamic which I find distressing. Anyway, I think about this person whenever I happen upon The Pick-Up Artist, specifically toward the end when Molly Ringwald's Randy (I mean, c'mon) insists to Robert Downey's Jack, "I'll always be grateful to you, but we're not good for each other."
The Pick-Up Artist is far from ideal. The dialogue is cheesy and the plot's forever bordering on absurd. What's more, the movie represents an exploration of what the majority of people find significantly off-putting when it comes to Mr. Toback. And yet despite that, there is a tremendous amount of charm gracing this picture, the kind that one experiences from watching Robert Downey woo an 18-year-old film star. Assuming all of Toback's work represents some extension of his id, one might assume his biggest challenge isn't so much meeting – or mating with – exceptional women, but getting them to stick around. The Pick-up Artist succeeds because it focuses on setting all that weak-ass shit aside, disposing with machismo in the hopes of something more.
Notable Members of the Ensemble: Danny Aiello, Victor Argo, Lorraine Bracco, Robert Downey, Jr., Dennis Hopper, Victoria Jackson, Harvey Keitel, Fred Melamed, Molly Ringwald, Tony Sirico, Robert Towne, Vanessa Williams.

3. Exposed (1983): Here we are confronted by a classic Toback tenet – the notion that great men regularly pursue and approach hapless women on the street, determined to have some profound, life-altering, impact on their being. It's a silly preoccupation, one that Toback has attempted to push by for years. Only it's nonsense, an exhausted plot device that often serves as a distraction.
There are several Toback staples in this movie, including (but not limited to): a classically-trained musician, 1950's rock n roll, a sexual dalliance involving an academic mentor, and a brief appearance by Tony Sirico. Exposed unfolds with all the drama of a British crime thriller. Goethe, Nietzsche, fear as a catalyst for change … in Toback's philosophical dystopia, beauty equal access, and vanity, a fatal flaw. That theme plays out exquisitely, thanks in large part to Natassja Kinski and (Toback stalwart) Harvey Keitel.
Notable Members of the Ensemble: Janice Dickinson, Stephanie Farrow, Pete Hamill, Iman, Harvey Keitel, Natassja Kinski, Norris Mailer, Ian McShane, Rudolf Nureyev, Tony Sirico, James Toback, Jose Torres.

2. Tyson (2008): During a 2013 Hollywood Reporter roundtable James Toback calmly stated, "I think anyone who today still feels that fiction films are competitive in terms of depicting the human condition with documentary – all other things being equal in terms of quality – has his head lodged so firmly up his colon that he should find a crane to remove it." While Toback was on the scene to promote Seduced and Abandoned, he was also referring to a latter-day shift in his career, one that has seen him put out two feature films in the span of six years, both of them documentaries.
In the case of Tyson, Toback was dealing with the same basic building blocks Nicholas Jarecki had when approaching The Outsider (i.e., a captivating public figure who surrounds himself with controversy). Toback never set out to create another "Iron Mike" retrospective, and, as a result, his portrait remains the most humane of all the Tyson documentaries. There is no veneer, no filter, no sudden cuts to Bert Sugar chomping on that fat goddamn cigar. As Toback himself put it a year prior to the film's U.S. release: "Ultimately, the truth is, who gives a fuck what Teddy Atlas has to say about Mike Tyson? Or, for that matter, who cares what any number of people who've written about him or talked about him have to say? It's an opinion, and not one that has even an iota as much interest – at least to me – as listening to Mike and watching Mike. So I just thought, Why clutter up a chance of a lifetime to do a riveting portrait of a riveting figure by introducing a lot of third-rate garbage?"
Well put, Mr Toback. And exceedingly well-executed.
Notable Members of the Ensemble: Mike Tyson

1. Black and White (1999): Black and White is the most Tobackian of all James Toback's movies. It is consumed with orientation, race and culture, one side exploiting the other to achieve its own selfish end. The white kids want to be gangsters, the black kids want to be capitalists, and every group continues feeding off the lifestyle it abhors. Black and White is the story of urban life in America, featuring completely out-of-body turns by Elijah Wood, Brooke Shields, Claudia Schiffer, Robert Downey, Jr., Bijou Phillips and a plethora of others. The most memorable moment? A frustrated Mike Tyson bitch-slapping Robert Downey, Jr. to the floor. "We still don't know if it was fake or not," producer Hooman Majd insisted during an Interview Magazine Q&A. Either does the audience, and that's why it continues to feel so incendiary.
Notable Members of the Ensemble: Scott Caan, Robert Downey, Jr., Ghostface Killah, Gaby Hoffmann, Hassan Johnson, Michael B. Jordan, Jared Leto, Marla Maples, Method Man, Joe Pantoliano, Bijou Phillips, Raekwon, Brett Ratner, Claudia Schiffer, Brooke Shields, Ben Stiller, James Toback, Mike Tyson, Elijah Wood, Chuck Zito.