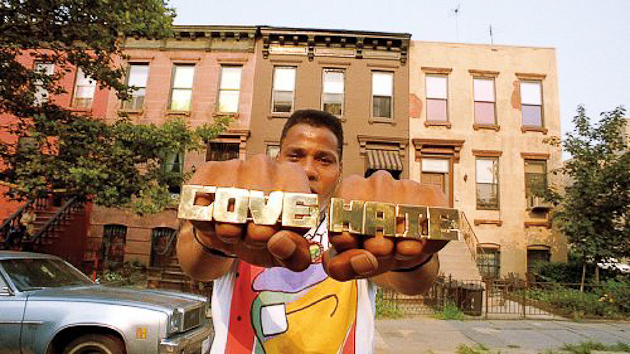 Spike Lee is a New York City director known for writing and directing several of the greatest summer movies of all-time – lyrics poems that ooze of place and culture. The setting: One or all of New York City's big-five boroughs. The time: either now or a period in the not-so-distant past.
Spike Lee's movies are consumed with racial tension, predominately as it exists from an African-American perspective. Most of his screenplays operate like a springboard, immersing central characters into conflicts rife with faith, ethnicity, ideology and derision. The five Spike Lee "Joints" that are listed below – set during the summers of 1977, 1989, 1994, 2005 and 2011 – represent some of the richest social commentary ever put on film, both highly entertaining and emotionally charged. They symbolize a high-end fraction of what Mr. Lee has had to offer, being, as they are, his top five summer movies of all-time:

5. Red Hook Summer (2012). In May of 1977 Spike Lee traveled north from Morehouse College in Atlanta to spend the summer in New York. For lack of any ongoing employment, Lee borrowed a video camera from a friend, then spent the bulk of his vacation filming everything around him. That footage would provide the foundation for Spike Lee's first student picture, Last Hustle In Brooklyn. It would also provide the impetus for what would eventually become Spike Lee's Summer of Sam.
And so here we find Mr. Lee, 35 years down the line, filming a coming-of-age tale set in Brooklyn, during Summer, the central character a boy named Flik who's up from Atlanta, documenting his experience via iPad. This is Spike Lee riffing on himself, in what turns out to be a vibrant-looking motion picture. Having said that, Red Hook Summer also demonstrates just how far Spike Lee has fallen from the tree. Lee is revisiting the stomping grounds of Do The Right Thing here, but he's doing so in a time and era that no longer belongs to him. Despite a miniscule budget and a slew of substandard acting, Red Hook Summer still manages to feel honest, but not about anything particularly enthralling. As a director, Spike Lee winds up looking like an elder-statesman – an acclaimed auteur pushing 60 who no longer resembles us so much as them (and I am speaking here in terms of generation).
Notable Members of The Ensemble: Thomas Jefferson Byrd, Jackson Lee, Spike Lee, Clarke Peters, James Ransone.

4. Clockers (1995). Spike Lee is adapting original material written by Richard Price here, and it proves to be one of this movie's many limitations. There are plot holes, particularly toward the end, and some questionable casting choices (It's worth noting that Mekhi Phifer, who cut his teeth as the lead character in Clockers, never appeared in a Spike Lee movie again), but there are also several Spike Lee staples, including: Jesus (pronounced Hay-Zeus), Brooklyn, life in the projects, a black man chiding a white man for using racial epitaphs, John Turturro, the double-dolly and the sudden cut.
Best-selling novelist Richard Price went on to become a writer for HBO's The Wire, and more than half the actors from the Clockers' housing crew went on to portray key members of the Barksdale organization on that show. There are early hints of The Wire throughout Clockers, particularly regarding the way crack is sold inside the ghetto. Spike Lee nails that aspect, while failing to account for several foregone realities as the story lingers on.
Notable Members of The Ensemble: Michael Badalucco, Thomas Jefferson Byrd, Keith David, Michael Imperioli, Hassan Johnson, Harvey Keitel, Spike Lee, Delroy Lindo, Arthur Nascarella, Mekhi Phifer, Fredro Starr, Mike Starr, John Turturro, Isaiah Washington.

3. Inside Man (2006). What's that you say? Inside Man is not a summer movie. Well, on that count, my friend, I beg to differ. Inside Man was filmed during the summer, set during the summer, and it opens on a panoramic shot of Coney Island after dawn.The costumes feature short sleeves, pastels and cream, suit jackets carelessly slung over shoulders. Viewers can feel the August daylight breaking hard against stone walls. Twilight shadows drift to orange and the cast members are sweating. Not exactly a summer movie upon the order of, say, The Wackness, but a summer movie, all the same.
Inside Man was not written by Spike Lee, but it most certainly retains his imprint. The majority of Caucasians are white-collar criminals, the two hero detectives are black, and the "Inside Man" is a masked vigilante with a Herculean axe to grind. Lee sneaks in references to some of the all-time New York crime thrillers along the way, including (but not limited to): Serpico, Dog Day Afternoon, The Godfather and Kojak. He even throws a bone to Dirty Harry, a west coast hero who made an impact way back east.
Inside Man features a slew of unexpected twists and turns, a brilliant screenplay ("Respect is the ultimate currency.") written by Russell Gewirtz, and a traditional dramatic score provided by perennial Spike Lee collab, Terence Blanchard. It all adds up to one engaging two-hour heist film, the likes of which we've never known.
Notable Members of The Ensemble: Willem Dafoe, Chiwetel Ejiofor, Jodie Foster, Peter Gerety, Clive Owen, Christopher Plummer, James Ransone, Denzel Washington.

2. Summer of Sam (1999). Mr. Lee is toiling in his wheelhouse here, exploring an epoch of New York's history so steeped in controversy the ripples would be felt for decades. The punk scene, the fag scene, the disco scene and Son of Sam, all of them converging and then filtering out in unison. Toss in record heat and rising tensions, rolling blackouts marred by riots, and you find Spike Lee's approach to New York City throughout Summer of Sam laid the groundwork for David Fincher's approach to San Francisco throughout Zodiac. Both films provide a classic treatise in the butterfly effect, the various ways in which a single person or event can reverberate throughout a community, refracting back in shades of chaos.
The Zodiac and Son of Sam shared a similar pathology. The primary difference – at least in terms of cinema – being one was never caught and the other came and went in less than a year. That minor concentration makes Summer of Sam feel like a powder keg, perennially waiting to explode. By the time the opening notes of "Won't Get Fooled Again" hit, it's already too late. The Bronx is not only burning, it's smouldering out of control.
Notable Members of The Ensemble: Michael Badalucco, Jimmy Breslin, Adrien Brody, Jennifer Esposito, Ben Gazzara, Evander Holyfield, Michael Imperioli, Anthony LaPaglia, Spike Lee, John Leguizamo, Patti LuPone, Bebe Neuwirth, Michael Rispoli, Michael Sorvino, Mira Sorvino, Mike Starr, John Turturro.

1. Do The Right Thing (1989). 1989, A number, another summer. One block, one day, one hood in Brooklyn. A hot day. A scorcher, a snow-cone day (no, Mister Softee), a day for buckets and cold beer, a day for beach umbrellas and unplugged hydrants, midday showers and Love Daddy; a day for Buggin' Out and Mother Sister, Da Mayor and his doctors, M-M-Mookie, Booboo the Fool, Radio Raheem and Night of the Hunter, Famous Sal and Sweet Dick Willie, Alberta Hunter, Dexter Gordon, Oliver Nelson, Dana Dane, Marley Marl, Marcus Miller, Terry Lewis, Jimmy Jam, McCoy Tyner, Fred Wesley, Wayne Shorter, Roland Kirk, Monk and Ellington, Armstrong and Basie, Wynton and Branford, Mahalia and Janet, Whitney and Dionne, Miles Davis and Coltrane; Ella Fitzgerald, Aretha and Pendergrass; Al Jarreau, Little Richard, Sam Cooke and James Brown; Keith Sweat, Big Daddy, Rob Base, Salt-n-Pepa, Sugar Bear, Biz Markie, Kool Moe Dee, Otis Redding, Ray Charles, Public Enemy, Bobby Bland, The Isley Brothers, Tracy Chapman, Bobby McFerrin, Jackie Wilson, Marvin Gaye, Lionel Richie, Bob Marley, George Clinton, Stevie Wonder, Luther Vandross, Michael Jackson, Prince, Anita and Sade; Quincy Jones and Vic Damone, Frank and Dean, Bruce Springsteen; Perry Como, Pavarotti, Al Pacino, Bobby D., Sylvester Stallone and John Travolta; Bird and Magic, Tyson/Ali, Cain and Abel, Kunta Kinte, Tawana Brawley, Eleanor Bumpurs, Jesus Christ and Pope John Paul, Louis Farrakhan and Elijah Muhammad, Jesse Jackson and Mandela, Malcolm X and MLK; Donald Trump and Mayor Koch, Bull Connor and the Reverend Moon. Just another day in Bed-Stuy, Brooklyn, here today and gone too soon.
Notable Members of The Ensemble: Danny Aiello, Rick Aiello, Ossie Davis, Ruby Dee, Richard Edson, Giancarlo Esposito, Frankie Faison, Samuel L. Jackson, Martin Lawrence, Spike Lee, Bill Nunn, Rosie Perez, Roger Guenveur Smith, John Turturro, Frank Vincent.