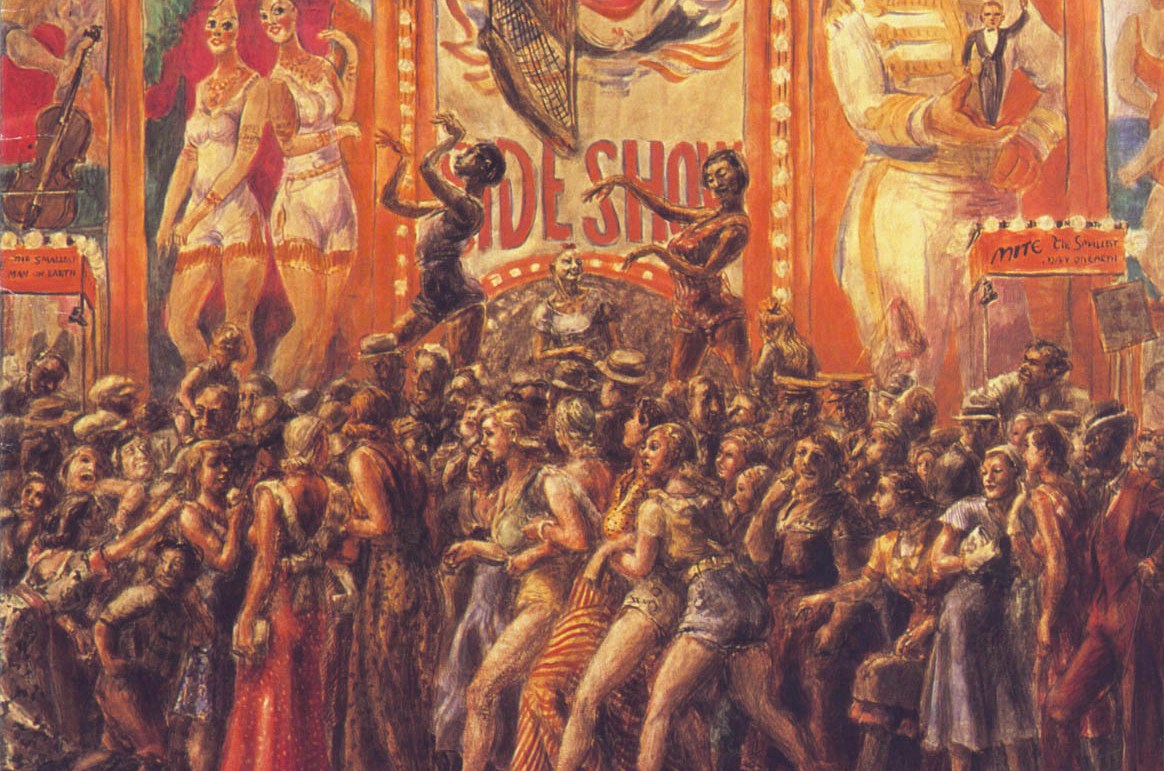 Morning … no, afternoon. And the phone kept ringing loudly. It was July now, and I was sleeping on my stomach, dressed in boxer shorts and nothing more. The window fan kept rattling, streaming heat onto loose sheets that had been kicked onto the floor. I sat up, placed shaking hands upon the mattress. I lumbered hard into the kitchen, mumbling audibly "Hold on."
"Hello," I said.
"Bob, it's John."
"Hello, John," I said. I lit a cigarette.
"I need your help," John said.
"You need my help with what?"
"Well, we just opened and there are a bunch of wrestling guys up here and they've already started putting out tables and they–"
"Wrestling guys?" I said.
"Yeah, like, a bunch of them," John said.
"Like what kind of wrestling guys?" I said.
"Like, like, like King Kong Bundy's sitting on a bench about 15 feet from me."
"And what exactly are they putting out tables for?"
"One guy says they're here to sign autographs. Another guy says they've already gotten permission from the More –"
"Are those tables blocking the Dime Pitch?" I said.
"They are."
"OK. I need you to sneak out of there for a minute so you can come down here and pick me up."
I had been asleep for a little over four hours, in and out after drinking at The Poplar Café until dawn. I threw on a T-shirt. My upper-body smelled like cognac. I wandered down onto the sidewalk, led by a stultifying horn.
I was drunk, and I apologized to John for my appearance. This was my first summer assuming any significant management role. Bill Salerno had moved on, claiming ownership of a boardwalk eatery across from Surfside Pier. Bill's departure resulted in a vacuum, and as I clamped my hair into a ponytail, it occurred to me I showed no signs of either leadership or control.
John parked his car beneath the boardwalk. I could not see the beach for sizzling fog.
"Who's in charge here?" I shouted. I was speaking to a coterie of wrestlers, many of whom sat sprawling on the Dime Pitch counter. A bearded man with a shiny forehead pointed off toward the promenade. Out there, beyond the pier limit, stood a bleach-blonde man with a megaphone. He was reading notes off of a card.
"Tonight, at the Convention Hall," this man declared, "it's Bam Bam Bigelow versus Bobby Duncum, Chris Candido versus Balls Mahoney, and ECW Tag-Team Champions D-Von and Buh Buh Ray Dudley versus Axl Rotten and his partner, Nuuuuuuuuuuuuuu Jack."
When the man took a moment to pause, I beckoned him over with a wave of my hand.
"Larry Sharpe," the man said. "Are you the guy running the show?"
"I am," I said. I gestured with my chin toward a pair of tables that had been set up along the front of the Dime Pitch. "Listen, I can't have you blocking any major concessions along the foot
of this pier."
"And what's your name?" Larry said.
"Bob," I said.
"Bob Morey?" he said.
"No," I said, "Just Bob. I'm the day-time manager."
"Yeah, well, listen to me, Just Bob. Morey told us we could be here, OK?"
"Which Morey?" I said.
"Morey," Larry said. "Y'know, Morey's Pier?"
I was staring at Larry. I had seen him on TV. Over the years, he had been affiliated with an abundance of east-coast wrestling promotions. Larry was also affiliated with The Monster Factory, a popular training facility located in Paulsboro, New Jersey. Up close, he had the sad-eyed look of Dusty Rhodes. Yet his demeanor was off-putting; his patois, extremely shrill.
"Bob, you gotta tell me what the problem is," Larry continued, "cause my guys, they all came out here today hoping to sign some autographs for the fans."
Larry's coterie had taken to its feet, half-a-dozen of them strong. These guys didn't appear so much like athletes as they did disgruntled dockworkers. I recognized none of them with the exception of Bundy, who had remained along a park bench, showing little interest
in getting involved.
Professional wrestling was experiencing a renaissance. The WWF stood months away from introducing the Attitude Era. Ted Turner's WCW had taken control. WCW had been luring away talent – Hulk Hogan, Lex Luger, Scott Hall and Kevin Nash. The WWF was reinventing itself around a WCW transplant who had shifted his image to "Stone Cold". The Monday Night Wars were underway – a series of prime-time, head-to-head, two-hour extravaganzas, pitting money and power against experience and verve. As the point man behind WCW, Eric Bischoff had taken the battle to WWE, eventually go so far as to broadcast the results of Monday Night RAW as it was in progress (via Monday Nitro). Vince McMahon, on the other hand, was about to step out from behind the announce table, reestablishing himself as the king hell bastard of that fold.
As a child I had been a fan of professional wrestling. I had collected all the thumb wrestlers; had acquired the plastic ring to go along. I had my favorites – Ricky Steamboat and the JYD. I owned The Wrestling Album, the gate-fold cover of which I had tacked onto my wall. Many of that era's superstars had faded, replaced by HBK and The Undertaker; Hollywood Hogan and his NWO. Comparatively speaking, the cast of grapplers Larry Sharpe had assembled looked like jobbers – a team of aging, wound-down leftovers, full of liniment and oil.
"Call Morey then!" I heard Larry say. He was speaking to Mike Strickler, an operations manager who had arrived to mediate the scene. "Cause I ain't taking my tables down, no matter what some fucking peon tells me."
"What d'you call me?" I inserted myself into their conversation.
"I called you a fucking peon," Larry repeated.
"Fuck you," I said. And with that, the bearded man with a shiny forehead came charging through the breach. "No, fuck you," he said. He shoved me several feet across the boards.
"That's enough," Mike Strickler shouted. "I'm sure we can get this whole situation resolved."
The bearded man started pacing now, muttering something about how, "You don't talk to [his] fucking boss that way." None of the other wrestlers had backed him, a dynamic which did nothing to allay my fears. I crossed my arms, positioned my back against a pillar. Mike Strickler got on the walkie, calling out to each of the Moreys, one-by-one.
The more attention this disagreement attracted, the more apparent it became that there was no problem, really. We were talking about a beach day with fewer than a hundred people along the strand. The cost-benefit of allowing the Dime Pitch to be blocked appeared negligible. The issue was that I had demonstrated zero initiative. On top of which, I had grown irritable, consumed with the notion that if those wrestlers remained up on that pier, then I would have to remain up there, as well. I wasn't scheduled to come into work until five.
I could not imagine anything like this happening in Cape May or Ocean City. Sea Isle, maybe. Atlantic City, for sure. Wildwood had always seemed similar to Atlantic City – similar geography, similar design. Turn-of-the-century Wildwood, much like turn-of-the-century Atlantic City, was originally marketed as a spa, accessible by train with clean air and clean water and a wholesome bathing culture. The subsequent rise of Atlantic City occurred as a result of corrupt politics, driven by the criminal enterprises of the day. In the wake of prohibition, a lot of rackets had gone legitimate, bolstered by an infrastructure that was already in place. Atlantic City's club owners, meanwhile, began exploiting the very African-American entertainers who – by day – were relegated to a block-long stretch of Missouri Avenue known as Chicken Bone Beach. Abbott & Costello were performing in black face. The ethos of greed began exacting a toll.
While the scale and timelines differed, Wildwood seemed intent on repeating a lot of Atlantic City's same mistakes. By the summer of 1997, there were rumors, rather prevalent, that Wildwood Mayor Fred Wager had been negotiating a deal with the Lenni-Lenape – a Native American tribe that had originally settled the Delaware Bay. Wager wanted to welcome the Lenni-Lenape back in return for them opening a casino on sovereignty grounds. Assuming all of the pieces fit, Wager's definitive stroke would be to approve construction smack-dab in the center of the island, at Schellenger and Pacific, a deteriorating block where both John Vollrath and Susan Negersmith had been fatally assaulted, less than 200 meters apart.
All of this kept running through my head as the North Wildwood Police pulled up in a patrol car. Larry Sharpe was being ordered to take his business elsewhere. A pair of wrestlers began collapsing tables, and as they descended the ramp at 26th Street, King Kong Bundy approached me from behind.
"How much for the lobster?" King Kong Bundy asked. He was motioning toward one of several four-foot pieces of plush hanging upside-down inside the Ring Toss. Normally I wouldn't have sold that piece for anything less than $60 (a 114% markup), but given the circumstances, I sold it to Bundy for cost. The two of us got to talking, at which point Bundy made a joke about not even being on the card that evening. "Just in town to show my face," he said. Bundy was wearing a gray cotton T-shirt. He was an Atlantic City native, as he went on to explain.
Day 1,300

(Moving On is a regular feature on IFB.)
©Copyright Bob Hill