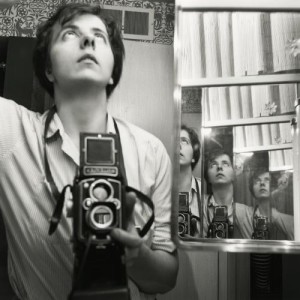 Vivian Maier was a curious bird – a classic loner, if not a voyeur, who lived vicariously through the veiled lens of her camera. Maier shot more than 150,000 images, many of them black and whites of urban life throughout Chicago. Her photos are unique, if not demure and imprecise, and they reveal the untrained eye of an almost limitless photographer.
Much like Emily Dickinson, Maier's gift remained a secret until a few years after her death, the bulk of her prints posthumously excavated almost by accident, purchased at an auction for $380. This year alone, John Maloof, the proprietor of that work, has authorized a handful of exhibits, co-published a second volume of Maier's photos, and co-directed an upcoming documentary about her life (Midway through the film, Howard Greenberg goes on record, admitting he's never seen as much interest in any photographer's work).
One of the secrets to Maier's approach was the use of an outdated camera. Held in place by a neckstrap, the Rolleflex allowed Maier to hide in plain sight, snapping spontaneous portraits without peeking through a lens. In Self-Portrait, Maier turns the camera on herself, revealing a deeply personal side that no one really got to see. It's a fascinating study, almost certain to incite debate over the ethical choice to display, or perhaps even profit, from the work of someone else, particularly an artist who consistently went to great lengths in an effort to maintain her privacy.
(Vivian Maier: Self-Portrait runs from now until December 14th at Howard Greenberg Gallery, 41 East 57th Street, Suite 1406.)
Five More For The Offing: