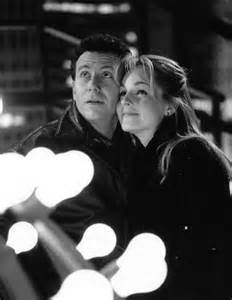 By March of 1995 Mad About You had reached the zenith of its network fame. Boasting the eight o'clock slot in NBC's Must-See-TV line-up, Paul Reiser's highly relatable situation comedy functioned as a lead-in to Friends, which was then followed by Seinfeld (a series which would eventually lampoon Mad About You in September that same year). As the lowest rated of all three, Mad About You was still achieving a robust 15 share, admirable enough to covet a top 10 spot in the weekly Nielsen ratings. In the wake of Cheers, NBC's prime-time priorities were shifting. Consequently, Paul Reiser – co-creator and co-star of Mad About You – had been called upon to host the March 18th edition of Saturday Night Live, the first and only time the 38-year old would be enlisted to do so.
Meghan was a fan, which meant that I – by extension – had become a fan, also. I mean, Mad About You, that was us, y'know? How could it not be? Forget about the fact that Paul Buchman represented the prototypical 1990s New York nebbish, and Jamie Buchman, the safe-but-attainable career-minded woman. He had dark hair, and she was a blonde. He wore plaid shirts … and she was a blonde. He wore denim jeans … and she was a blonde. To a young and struggling couple living in the armpit of New Jersey, Paul and Jamie Buchman represented the art of possibility – New York City, Union Square, a one-bedroom opening out onto a fire escape. And they were married. They were married. They were so crazy-happy married. They were Jack Lemmon and Shirley MacLaine, the empty promise of a Springsteen song (Walk tall, or, baby, don't walk at all). Paul and Jamie Buchman represented the height of where blind faith could take us – one last dying remnant of a narrative gone bad.
More to the point, Paul and Jamie Buchman represented the reason I stood showering in a bath tub with no curtain now, watching steam fog up a mirror with brown metal rusting through. There was a bug inside the bathroom sink – black and shell-like, sliding down. There was a carpet in the main room, red and black with door-mat bristles. The outside hallway reeked like turpentine, despite no paint on cracking walls.
We were staying on the fourth floor of the Latham Hotel, a one-star establishment along 28th and 5th Avenue. The room cost $60, which I paid through three-inch glass.
"Did you know he wrote the theme song?" Meghan shouted. She was sitting on a desk chair in the corner of the bedroom.
"He wrote the what?" I shouted back.
"The theme song," Meghan shouted. "Paul Reiser co-wrote the Mad About You theme song."
I turned the shower off – C for hot and H for cold. I drip-dried on drab tiles.
Meghan was sitting by drawn curtains, denim jacket half-unbuttoned. She asked if I was ready. I told her I was not. She was behaving like a woman who had long since sworn off sex.
We went strolling north through midtown, toward the New York we'd been advertised, stunningly oblivious to corner stores and miles of scaffold. Looking up outside the Empire State, I was reminded of my only other visit to Manhattan, an eighth-grade field trip to Tower Two of the World Trade. There was an observation deck along floor 107, all waist-high bars and slanted glass. One could see the entire universe unfurling out there –  Fitzgerald's Lost City, Platner's Windows on the World. And yet, the only thing that I or any of my classmates could conceivably think to do was bow our heads and look straight down.
Meghan and I embarked upon a tour at Rockefeller Center, prompted by the notion this was Saturday, and, as such, NBC might provide us limited access to Paul Reiser. Alas, Studio 8H ran empty, as did the Nightly News studio and the original Tonight Show set – a stunning array of hanging lights and bundled wires, tourists commenting on how much bigger all the props looked on TV. Following the tour, Meghan sought out a concierge, who assured us there were no remaining tickets for that evening's SNL.
We ate dinner at The Hard Rock, where Meghan ordered a $6 daiquiri known as Strawberry Fields. Feigning disgust, I argued the use of a fake ID might get us booted. And yet, the reality was, my aggravation stemmed from shame – shame about the fact that I was poor, and Meghan was poor, and we were holed up in some poor hotel because I'd insisted on this trap café.
I spent the second half of dinner wandering the restaurant alone, taking pictures with a disposable camera. Meghan, on the other hand, sat alone, barely touching her concoction, a spiteful act which only served to make me feel much more ashamed.
***
"We're lost," Meghan told me.
We were lost, continuing north-northwest along Riverside, in pursuit of a diner, the exterior of which was prominently featured throughout Seinfeld. A mutual friend assured us it was located "up near Columbia," which Meghan and I assumed might make it reasonable to find. Only we were tourists, and, as such, New York City unfolded more like a never-ending labyrinth than an easily-navigated system of grids. We zigged, and then we zagged, skirting fringes of the Harlem we'd been advertised.
"We should just hop on the parkway," Meghan insisted. She was pointing off toward the Hudson with her cigarette. "There's a huge green billboard on, like, every other corner."
"It's a bad idea," I countered. "We commit to the wrong exit and we might never get back in."
"Well, we need to think of something," Meghan bristled. "My car's running on E … Why aren't there any gas stations around here?"
"Maybe we should just give up," I whispered.
Neither party seemed too keen about the prospect. I mean, what were we to tell our friends, many of whom we'd promised close-up pictures of the diner? Alas, it was decided: we would reverse course in short order, rather than risk a fatal stall along West Harlem. We doubled-back toward Manhattan, en route to see if any stand-by SNL tickets had recently been made available.
We were directed to a lobby inside NBC – jet-black marble, mustard trim – where we stood with half-a-dozen others. Molly Ringwald rambled through around 11, followed by the actor who played Phillip Spaulding. A few minutes later, a network page emerged, declaring, "We can take another." Before Meghan or I could summon the initiative, a nearby couple raised their hands. A rope was lifted, they were immediately escorted through.
We called it quits just after midnight. A hush had fallen over 5th Avenue, and we reveled in the silence, staring past our dark reflections at the sheen of garish vistas. Meghan lit a cigarette, leaned her back against a wall.
"We could give it one last shot," I murmured. I was staring at a window – heat-lamp orange, flanked by flowers.
"What, Saturday Night?" Meghan said. "That show's as good as over."
"Yeah, but the entire cast'll still be up there," I responded. "You gotta figure they're gonna exit through that lobby."
"What about the car?" Meghan said. "If we don't pick up the car by 1 am it's gonna cost another $15."
"OK, so we'll go pick up the car," I said. "I'll wait outside while you hurry in."
Meghan re-emerged from NBC around 1:40, boasting autographs from David Spade and Kevin Nealon, Adam Sandler and Chris Farley. Annie Lennox hurried past, Meg told me, Chris Elliott ignored me.
"What about Paul Reiser?" I wondered.
Paul Reiser never showed.
I bought a six-pack on our way back to the Latham, then sat drinking it while Meghan fell asleep. Our relationship felt older now, forever dog-eared and unclear. All the greetings cards read desperate; all the plans, void of conceit.
I opened up a window, tapped my smoke out on the ledge. I watched the ashes drift like snowflakes, several stories into darkness. There was no posh view of the city; there was no atmosphere at all. Just one concrete wall across the way, and an empty sky too bright for stars.
Day 776

(Moving On is a regular feature on IFB.)
©Copyright Bob Hill