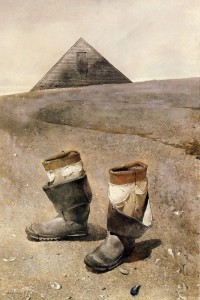 When the last long week of August bled its way into September and green flies along the beach outnumbered all the worthwhile prey, when hotel balconies ran checkered and weekend vendors closed their kiosks, when short sleeves gave way to lozenges and northern trade winds curled the ocean, when the meters blinked at zero and all the street lights flashed bright yellow, when the sand began to snake its way from coastline back to inlet, that was when my girlfriend finally left North Wildwood for good.
Meghan was gone now, living in a dorm room at Immaculata, where she was campaigning for class president. We had spent the summer working apart, Meghan managing an ice cream parlor on Magnolia while I did my thing on Surfside Pier. Most evenings, Meghan would close up short of midnight, waving arms as she passed by along the strand. On a good night, she might wait for me along a bench, enabling the two of us to walk and talk toward 19th Street. We rarely spent days off together, and we never spent full nights. Come September, the entire thing had worn me down to an extent I scarcely ate or changed my clothes.
Bill Salerno arranged for me to rent a car throughout the final weeks of summer, a red sedan I used to hustle back and forth to school. I'd attend classes in Delaware County every morning before driving east to Wildwood at night – two hours, both ways, with a six-hour work shift starting the moment I arrived. Before long a lack of sleep took hold, causing me to drift away one night behind the wheel. I came to on a front lawn in Cape May Courthouse, the rental car still idling, a bulldozed post across the yard.
The weekend after Labor Day, I withdrew my summer savings – $1,300 set aside to buy or lease a nice used car. I put that money in an envelope, which I carried by my side. At some point while I was at work, that envelope disappeared. It was discovered the following morning by a 31-year old named Brian Polhamus. Polhamus, a Surfside Pier employee, noticed the envelope sticking up between two planks next to the Tilt-a-Whirl. He turned it in and I rewarded him …with a $16 bird from Bill's Concessions.
Whenever possible, I'd drive past Meghan's father's house on East 19th, slowing down as I ran even with the porch. That porch reminded me of simpler times, February afternoons when Meghan and I would drive out west toward the inlet, watching waves crash on the jetty after we made out in the car. It was gone now, almost all of it, with Meghan barreling head-first into a world that I abhorred. Penn State, Delaware County, moving back into my parents' house – day after day, I told myself new stories in order to live. I wanted to be here, I equivocated. It had always been my plan to re-enroll.
Meghan, meanwhile, remained headstrong, entering a period during which she'd be encountering new people at an astronomical clip. Assuming our relationship fell through, it was my belief I'd never meet someone like her again. Throughout our two-plus years together, I had marketed myself as a monogamous boyfriend – a loyal sword who'd never hurt Meghan or take advantage of her feelings. And yet, the majority of my behavior found its roots in insecurity. I would put down Meghan's friends incessantly, going out of my way to reassess their minor flaws. Come the Fall of 1995, my negativity had become such it began to feel more like a tourniquet, constricting Meghan's ability to mold and blend into a new environment.
The third week in September, I purchased a rust-red 1987 Escort for $800 at auction. I called Meghan's dorm room the following morning, insisting she let me take her for a ride. No chance, Meghan protested. She had just been elected class president and she had too much on her mind. I was persistent, and, eventually, Meghan relented, agreeing to let me come out "for a minute."
"After that," Meghan was adamant, "you really need to go."
Come one o'clock my tiny Escort made the turn onto Immaculata Drive, a busted brake light overshadowed by the screech of grinding belts. Meghan wandered over outside Villa Maria Hall. She came flanked on either side by classmates, one of whom kept staring at my temporary tags. I remained inside the vehicle, both hands at 10 and two. My body began to hyperventilate, responding to some urge to cut the conversation short.
Minutes later, I sat driving south toward the exit, a series of oak trees scrolling back across my car. Jagged shadows threw dark weight upon a sticker on my windshield, the word "REJECTED" printed on it in big, black, Antique font. I've gotta get this thing inspected, I thought unto myself. Meghan's classmates must've thought that goddamn sticker looked absurd.
Day 985
(Moving On is a regular feature on IFB.)
©Copyright Bob Hill