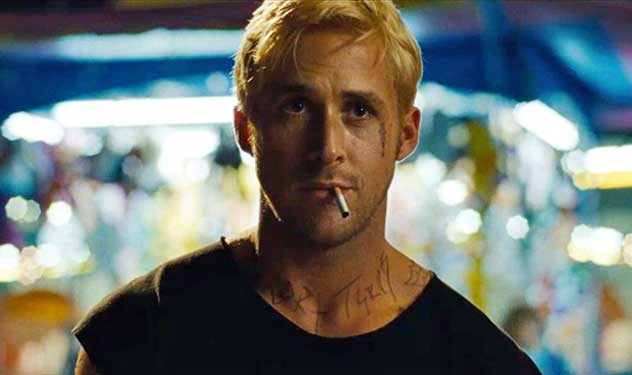 Two-thousand-thirteen was a polarizing year for Ryan Gosling, appearing – as he did – in both the best and worst motion pictures of his career. While Gangster Squad represented the shittiest A-List romp of that winter, it also represented the only piss-poor film choice Gosling had made in over a decade. The 33-year old's success is the result of several factors, not the least of which is a quality Drive co-star Carey Mulligan once referred to as his "stillness". A lifelong actor, Gosling made the transition from child star into leading man while avoiding all of the usual tabloid blunders. He's got the look, the instincts, the mindset, and the following, and – despite only being nominated for one Academy Award – Gosling's amassed an entire steam trunk full of accolades, the majority of which were awarded in recognition for these six essential roles:

1. The Believer (2001). As a 19-year old, Ryan Gosling was beginning to rebel against his early Mickey Mouse Club image. He broke out by portraying a self-hating Jew who violently aligns himself with the neo-Nazi movement. The Believer effectively freed Gosling, establishing him as a significant screen presence, one with the willingness to accept roles the majority of vested actors would avoid. The movie also showcased Ryan Gosling's budding physique, accented by the martial arts training he received throughout Young Hercules.

2. The United States of Leland (2003). Once, when I was in high school, a classmate hired me to write a short story for her. I based that story – at least in part – on The Who's Quadrophenia. Toward the end of my piece, the teenage hero, who lived in a tiny shore town, wandered out beyond the breakers, at which point he drowned himself inside the sea. The girl who I wrote the story for received a "D," with her teacher providing a red-line note that read: "People don't just kill themselves for no reason." I mention this by way of explaining how critics responded to Matthew Ryan Hoge's The United States of Leland. Roger Ebert declared the film a "moral muddle," Moira MacDonald of the Seattle Times referred to it as both "ponderous and endless" (and not in a good way). The film maintains a 34% rating on Rotten Tomatoes' aggregate all-critics meter, rather astounding when one considers the ensemble cast: Don Cheadle, Sherilyn Fenn, Ryan Gosling, Chris Klein, Jena Malone, Michael Pena, Kevin Spacey, Kerry Washington and Michelle Williams (among others). As the lead, Gosling plays a detached suburban teen who inexplicably murders the mentally-handicapped brother of his girlfriend. Combined with The Believer and Murder By Numbers, Leland made it appear Gosling would be pursuing an alternate trajectory, until …

3. The Notebook (2004). The Notebook is crucial within the framework of this list for the simple reason it proved Ryan Gosling was capable of playing out the next 25 years of his career as a multi-million-dollar heartthrob. Imagine, if you will, every person who's ever said, "Oh, my God, I LOVED The Notebook." Now imagine Ryan Gosling having placated that audience. The fact that he has not says more about his M.O. than it ever could about a thousand other actors who've made their millions following that path.

4. Half Nelson (2006). A return to form, as Gosling slumps his shoulders, inhabiting the shell of crackhead teacher Daniel Dunne. Gosling is exceptional, if not understated, intentionally dialing it down to feign exhaustion. Half Nelson is notable not only because it garnered Gosling his first and only Oscar nom, but also because it ushered in an ongoing string of signature roles – Fracture, Lars and The Real Girl, Blue Valentine, All Good Things – each of them paving the way toward …

5. Drive (2011). By the time Drive entered pre-production, Gosling's swagger had become such he was afforded the luxury of choosing his director. Nicolas Winding Refn, a Danish auteur, helped transform what was originally a mainline vehicle (starring Hugh Jackman, no less) into a brilliant piece of noir – part 80s glam, part video game, part ass-kicking amalgam. Drive was a combination of so many clashing genres (i.e., Crime, Car, Heist, Drama, Western, Romance, Grindhouse, Thriller) that a handful of critics simply dismissed it, citing cruelty. Regardless, Ryan Gosling emerged a hero, entering a period during which he would partner with certain directors again, developing what he has since referred to as a specific form of shorthand.

6. The Place Beyond The Pines (2013). During a 2011 Hollywood Reporter Roundtable, Ryan Gosling explained that almost every scene he filmed for Derek Cianfrance's Blue Valentine had to be shot in just one take. No table reads, no rehearsals … just years, literally, spent learning how to slip inside the skin of both those characters. While The Place Beyond The Pines represented a more conventional affair, it stands to reason Cianfrance maintained a similar approach. Between the bleached hair, the tattoos, and that brilliant, seething anger, Gosling appears nothing short of transcendent throughout this movie. His most staggering feat? Getting the audience to care. For here Gosling is charged with portraying a robber/bully/deadbeat/carney, one whose charisma holds the key to making all the other pieces matter. Schenectady, as you know, means "place beyond the pines."